[

English

|

Spanish (Español)

]
Graduate Degree Programs
Explore your research interests and expand your career opportunities at the New Mexico State University College of Engineering. Our six engineering departments offer the following advanced degrees:
Download our engineering graduate student brochure.
​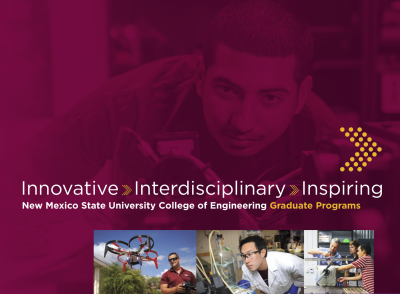 Professional Master Programs
NMSU's College of Engineering is proud to offer a new Professional Master of Engineering degree – a 30 hour, non-thesis degree specifically designed to accommodate working professionals in a variety of engineering and technical fields. Many courses are offered online or in the evening. Choose from the following programs:
---
U.S. News & World Report – a top-tier university
National Science Foundation – No. 1 in the nation among peers for science and engineering funding
Brookings Institution – No. 2 nationally for research and improving lives
Carnegie Foundation -Ranked as an R2: Doctoral University — Higher
More about our rankings
More about NMSU research
About the College of Engineering
College of Engineering faculty members are national and international leaders in their fields conducting cutting-edge, highly technical research. While pursuing your graduate degree, you will work in an exciting and collaborative environment that will lead you to a path of rewarding research and potential new career opportunities.
Among our research strengths are:
Energy, Environment, and Water
Data and Information Science including Communications, Machine Learning, Sensors and Sensing Applications, and Signal Processing
Infrastructure and Structures
In addition, there is ongoing research in other areas including sustainability and infrastructure, biomedical systems and devices, defense and homeland security, and advanced manufacturing and materials.
​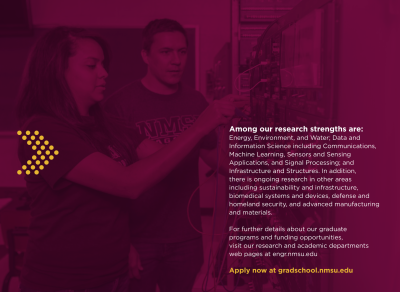 More than Academics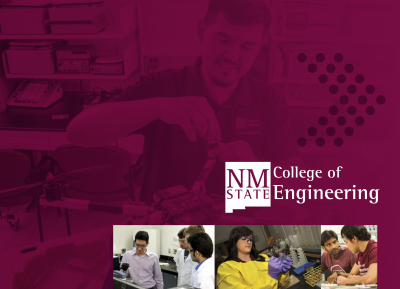 ​
We are a comprehensive research land-grant university excelling in teaching, research and public service. NMSU is truly a reflection of the region's vibrant communities—an exciting place to tackle challenges, find answers to important issues and prepare for the future.
The NMSU community is culturally diverse with an active student body and caring and welcoming faculty members and administrators. It offers an open and supportive environment that fosters relationships, interaction and connections. Our campus serves students from 49 states and 89 countries.
Located in Southern New Mexico at the base of the Organ Mountains-Desert Peaks National Monument, the sun shines nearly every day. Recreational and outdoor activities such as hiking, biking, camping and boating abound. A short drive will even get you on the ski slopes.
---
Admissions Information
Entrance requirements and the online application system for admission may be found at the Graduate School. Prospective students should also visit the engineering department's webpage for additional requirements and deadlines. If the applicant meets the Graduate School's minimum requirements, the application is sent to the department's graduate admissions committee for review.
International students should also visit the Office of International Student and Scholar Services for additional information.
Admission to the graduate program does not guarantee a Teaching Assistantship or a Research Assistantship.
Prospective International Students
---
FAQ
Q: What are the cutoff entrance exam scores for admission to the graduate engineering program?
A: Each department sets their own admissions criteria. In general, the minimum scores are
Electrical and Computer Engineering
GRE Verbal: 146, Quant: 155
Mechanical and Aerospace Engineering
GRE 294 (combined)
For international students, most departments also require TOEFL > 79, IELTS > 6.5.
Q: How can I get a teaching assistantship (TA) or research assistantship (RA) in your university?
A: A limited number of teaching assistantships are awarded to exceptionally well-qualified doctoral students—please contact the department head for more information. Research assistantships may be awarded by a faculty member with externally-funded research programs, i.e. research grant or contract. These faculty often list open RAs on their individual research web page.  Please visit these web pages for more information.