I am pleased to announce that a donation from engineering alum Ron Seidel will help students develop essential "soft skills" with the launch of the Ron Seidel Engineering Leadership Institute this coming spring.
Engineering isn't just about numbers, designs, and materials—it's about leadership. Key attributes to becoming a leader in engineering practice are to bring together teams from various disciplines, communicate, make decisions, be self-directed and ethical. We are grateful that Seidel knows the importance of leadership in engineering and is generously supporting this critical focus for our students.
A group of 20 students will be selected to be the first cohort in the two-year, self-paced program that includes professional training in leadership, communication, well-being, time management, and community engagement. Seidel's gift will provide participating students with stipends, funding for books and supplies and travel to conferences. It will also support distinguished lectures from well-known leaders in engineering fields.
---
New Mexico State University Department of Civil Engineering Assistant Professor Ehsan Dehghan Niri has received a United States Department of Energy grant. This is a three-year award for $400,000 and is a collaboration with Arizona State University…Read More>>
---
Ricardo B. Jacquez, age 70, passed away peacefully in his home on October 18, 2018 following a 15-month battle with cholangiocarcinoma. Jacquez served as Dean of the College of Engineering, Computer Science and Construction Management at California State University-Chico (Chico State) for the last three years. Prior to relocating to California, he served 34 years at New Mexico State University (NMSU) in Las Cruces, New Mexico as a professor, department head, associate provost, and dean...Read More>>
---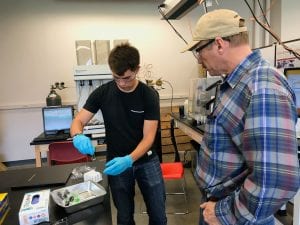 WRITER: Tiffany Acosta
Since the Freeport-McMoRan Water Quality Laboratory was established in 2009 in New Mexico State University's College of Engineering, the facility has been a critical resource for NMSU professors and students. The facility is a full-service analytical laboratory located in the Ed and Harold Foreman Engineering Complex III…Read More>>
---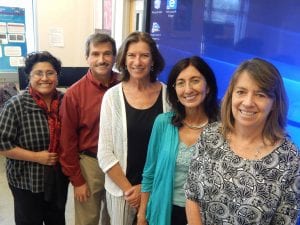 WRITER: Minerva Baumann
The National Science Foundation recently announced its first research awards under the Hispanic-Serving Institutions Program. In addition to 31 projects awarded to community colleges and universities across the country, a $2.6 million, five-year grant will fund a first-if-its-kind HSI Resource Hub at New Mexico State University, in collaboration with Dona Ana Community…Read More>>
---
Dion Messer, electrical engineering, was honored as Distinguished Alumna at homecoming celebrations in early October. She addressed scholarship donors and scholarship recipients at the 26th Annual College of Engineering Scholarship Breakfast…Read More>>
---
The Stephen W. and Robert E. Roberts Memorial Staff Award is presented annually to an exceptional member of the New Mexico State University staff who has had a positive impact on the college and community. Chemical and Materials Engineering Department Administrative Assistant and NMSU alumna Carol Dyer was selected as the 2017 recipient of this honor…Read More>>