By Elaine Stachera Simon
(575) 646-4664
elainek@nmsu.edu
Nov 09, 2023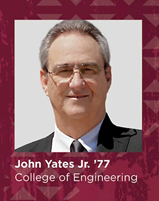 For more than 60 years, the New Mexico State University Alumni Association has presented the university's most accomplished alumni with the Distinguished Alumni Awards. Six new recipients were announced as the latest honorees, representing fields ranging from higher education to mental health and well-being, high energy density science, educational technology, oil and gas, and consumer product manufacturing. Among them was 1977 engineering alum John Yates, Jr.
Yates took a few turns on his way to an NMSU degree. After spending some carefree years at a California college, he enlisted in the Army and served in Korea during the Vietnam era. After his tour of duty, he was ready to try school again and chose NMSU in large part due to its solid reputation for engineering. 
He began in chemical engineering then changed to electrical engineering technology, but it still wasn't the right fit. Having always been intrigued with minerals, Yates found his niche when the then-geological engineering program began. He jokes that he "crammed a four-year degree into five years," but shares that the challenges of finding his way developed his grit, which has served him well throughout his life. Yates trusted his instincts, and in 1977 made good on his plan to get an engineering degree (and later a second one elsewhere as his interest in petroleum grew).
Well-known in New Mexico as a leader in the oil and gas industry, Yates spent many years working his way up through the family business, Yates Petroleum. He became president in 2009, serving for six years, and was then chairman of the board until the company's merger with EOG Resources in 2016. At the time, Yates Petroleum assets included 1.6 million acres across multiple basins and provided the state of New Mexico with hundreds of well-paying jobs, plus hundreds of millions of dollars in mineral royalties, taxes and revenue to the Land Grant Permanent Fund. 
Despite his vital role in the economic viability of oil and gas in the state, Yates avoids the spotlight, preferring to concentrate his efforts on his church, his community and his family. 
Indeed, as important as yates and his family have been to the New Mexico economy, he has had significant philanthropic influence here and beyond as a director of the Illinois No. 3 Foundation, a Yates family foundation that he and his sister named after the first commercial oil well drilled on state lands by their grandfather, Martin Yates, Jr. Primarily working in New Mexico, the foundation supports transitional housing for families, mitigates food insecurity, helps disconnected youth with physical and social necessities, advocates for stewardship of land and water resources, advances medical research and promotes the arts. 
Yates and his immediate family also direct the faith-based 1248 Foundation, centered around Luke 12:48: ". . . to whom much was given, of him much will be required." The 1248 Foundation spreads the message of the gospel and provides grants for disaster relief and education. Not surprisingly, Yates's plans for his legacy are all about family: cultivating in them a reverence for God and helping his grandchildren learn about the wonderful things—and the challenges—of life. 
Yates's advice for students? "Be patient and find what your passion is. Work hard and be willing to be flexible. You might have surprises and bumps in the road, but don't panic. Step up to the challenge when challenging things happen."