By Linda Fresques
(575) 646-7416
Oct 31, 2024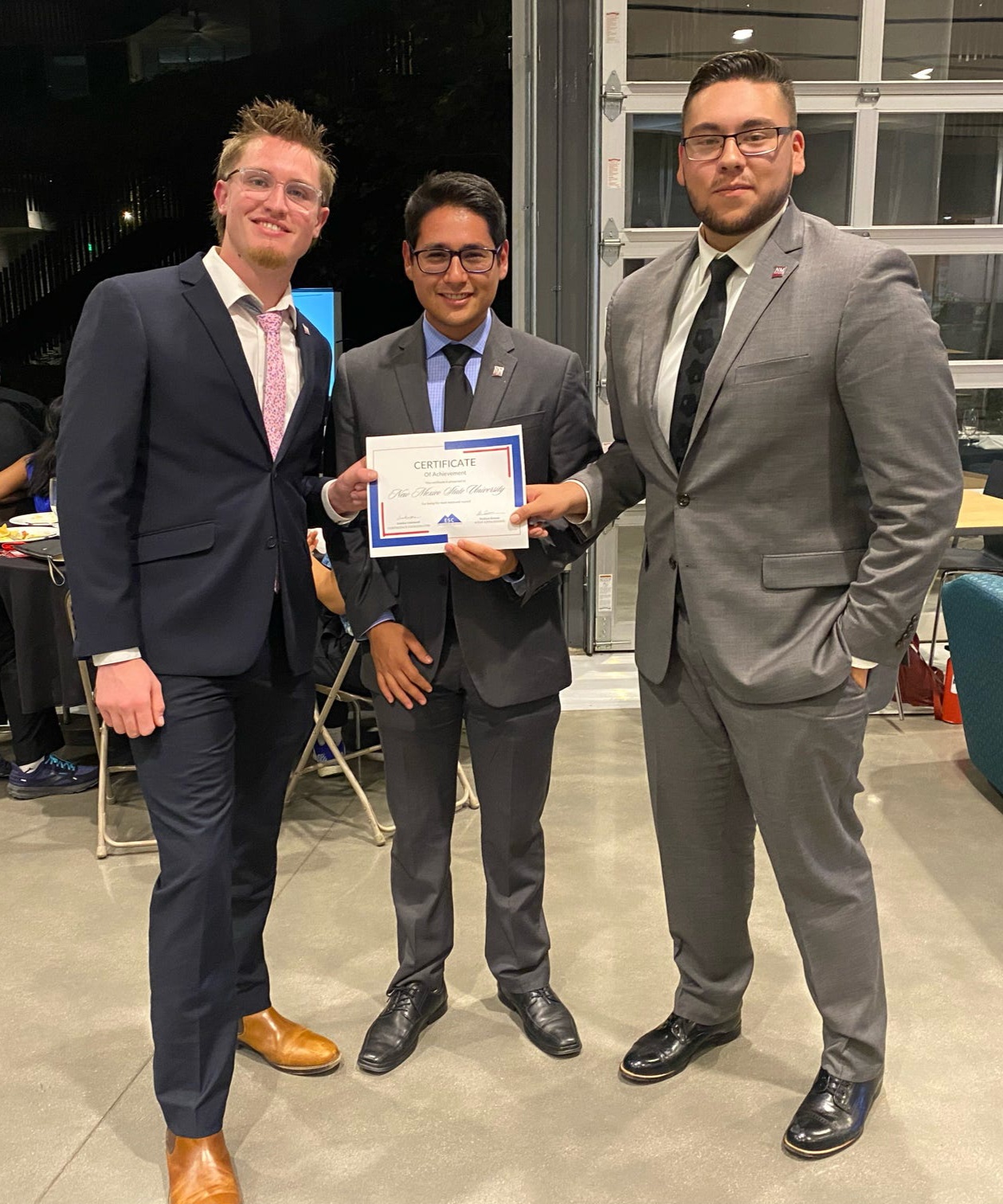 New Mexico State University's Engineering Student Council was recently lauded as the National Association of Engineering Student Councils Most Improved West/Central Council of 2023. The recognition was given at the west/central regional conference held in early October at the University of Arizona. The host school selects the awards so in this case the Engineering Student Council at University of Arizona.  
Led by council president J-D Soltero, 2022-23 and current, the group was noted for its efforts in reviving the council after the COVID-19 pandemic and being considered the example college council on the NMSU campus. The group was also recognized for increased activity in NAESC, going from a school that only participated online once a year which is now set to host the 2024 NAESC National Engineering Leadership Summit in March 2024.
Last year, Diego Chavez, a graduate student in electrical engineering, and Marie Ruiz, a recent graduate in chemical engineering, split the year with the role of vice president. This year, Janos Braun, a junior in chemical engineering, is the vice president and is looking forward to being president next year. 
This past March, the NMSU council won the award for Best Large Council at the 2023 National Association of Engineering Student Councils Engineering Leadership Summit in recognition of its outstanding efforts in promoting leadership, community service and academic excellence among engineering students.
"E-Council has rapidly changed because all of our officers and the clubs we represent, everyone has been super active and work very hard to put on the events and everything else we do in between. E-Council wouldn't be what it is without all of our members being great leaders and even better students," said Soltero, a senior in chemical engineering.
NMSU's Engineering Student Council membership comprises representatives from 23 student engineering organizations. The group organizes a wide range of activities to support its members and fellow engineering students' academic and professional development. The council, through its organizations, hosts workshops, seminars and networking events to help students enhance their skills and connect with industry professionals. They are also involved in community service, organizing volunteer events and outreach programs to promote STEM education among young students in the community.
"We are very proud of and grateful for the accomplishments of this group and the exemplary leadership of J-D and his fellow officers," said College of Engineering Dean Lakshmi N. Reddi. "They have turned this organization into a cohesive and energetic group whose contributions have been tremendously beneficial to the campus engineering community."
Soltero, Chavez and Orrin Edminsten, a junior in mechanical engineering, attended the conference. In addition to conference leadership workshops on how to implement leadership in personal and professional settings, the students toured Arizona's research facilities including the Flandrau Science Center and Planetarium, Biosphere 2, and the Laboratory of Tree-Ring Research.
"I believe that everyone sees a lot of potential in E-Council and our college, and it motivates us to do better for our campus today and do even greater things for the future. If I had one word to describe the E-Council board from the past two years, it would be ambitious," Soltero said.
To learn more about the Engineering Student Council and how to get involved, visit ecouncil.nmsu.edu.
The National Association of Engineering Student Councils (https://www.naesc.org/about) was established in 1983 as a nonprofit organization that aims to foster leadership and professional development among engineering students across the United States.