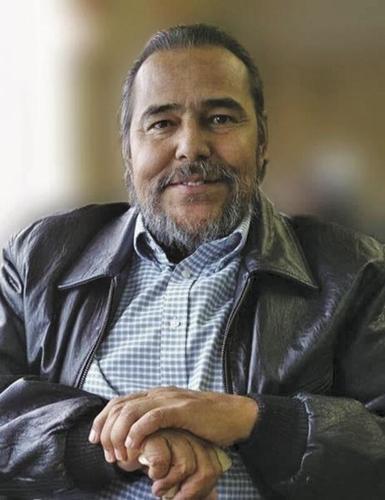 Ismael Dominguez, 64, passed away peacefully surrounded by his loving family on Saturday, September 30, 2023, in Las Cruces, NM after a brief illness.
On June 8, 1959, Ismael was born to Arnulfo Dominguez and Mary Carrasco in Carlsbad, NM. He attended numerous schools in NM throughout his childhood, graduating from Roswell High in 1977. Ismael went on to attend New Mexico State University in Las Cruces, NM obtaining his Bachelor of Science in Civil Engineering degree in 1983. Upon graduation, Ismael went to work for Cal Trans in San Luis Obispo, CA for a few years. He eventually went to work for an international firm, Guy F. Atkinson Construction Company, for many years building numerous infrastructure projects which included: dams, bridges, and roadways both nationally and internationally. He was excited to work on the original construction of Brantley Dam near Carlsbad, NM. He also worked on dams and bridges in Arizona and the Florida Panhandle. His proudest accomplished project was assisting in building the world's largest dam at that time, on the Orinoco River in Venezuela where he resided for three years. Ismael eventually moved back to Roswell where he designed and built his own home. During this timeframe, he also obtained registration as a Professional Engineer for the State of New Mexico. Ismael went to work for Parsons Brinkerhoff Inc., working on the 4-laning of US 70 in the Hondo Valley from Ruidoso to Roswell. Upon completion of the project, Ish, as he was fondly known by his co-workers, was employed by the NMDOT District Two Roswell Office as the Assistant District Engineer-Construction for 13 years. He eventually moved to Las Cruces, NM where he had resided for the past 4 years until his passing.
Ish was the kindest, most gentle person with a heart of gold who would help anyone in need. He enjoyed barbequing and cooking for his friends and family and loved spending his leisure time at his Ute Lake home, fishing or playing on the water. He also enjoyed relaxing at his property in the Lincoln National Forest near Nogal, enjoying the peace and tranquility of the mountains. Ish loved to deer hunt and camp with his family and friends in the Guadalupe Mountains, especially during his younger years when every year a large family gathering would occur. Ish was also an avid fisherman around the area lakes, but he was most fond of saltwater fishing where he caught numerous species including sailfish, barracuda, marlin, and dorados. He was also proud of the piranhas he caught while in South America.
Ish was a hard worker and extremely bright civil engineer but was also an adventurous soul who loved to travel internationally, especially to the Caribbean.
Those left to eternally treasure and cherish his memory are his father, Arnulfo Dominguez and step-mother Linda of Las Cruces, NM, mother Mary Dominguez, Roswell, NM, sisters, Corina Avina, Roswell, NM, Celinda Gomez (Franco), Roswell, NM, brother Alvin Dominguez (Cynthia) Las Cruces, NM, special loving companion, Debbie Nicholson, Las Cruces, NM, nephews, Anthony Dominguez (Clarisa), Matthew Dominguez, Jonathan Dominguez, Isaac Avina (Glory), Christian Analla, nieces Amanda Turrieta (Brandon) and Marisa Analla, along with numerous aunts, uncles, cousins, and many dear friends.
Preceding in death are maternal grandparents Florencio and Jesusita Carrasco and paternal grandparents Elonercio and Manuela Dominguez, along with a special uncle and his godfather, Edward Navarrette.
Services will be held on Monday October 9, 2023, with a viewing at Anderson-Bethany Funeral Home, 2609 S Main St. in Roswell, NM from 9:00 am to 12:00 pm. Funeral services will follow at St. Peter's Catholic Church, 111 E. Deming St. with a rosary beginning at 1:30 pm, followed by the funeral mass at 2:00 pm with Fr. Charlie Martinez, O.F.M. officiating.
Honored to serve as pallbearers are Anthony Dominguez, Matthew Dominguez, Jonathan Dominguez, Isaac Avina, Christian Analla, Markie Nicholson, Danny Alvarez, Adam Mendoza.
The family wishes to extend sincere thanks and eternal gratitude to Debbie Nicholson and her children, Monique, Crystal, Markie, Danielle, and granddaughter Micah, for the loving and caring support that they expressed to Ish. Also want to thank all the doctors, nurses and support staff at Memorial Medical Center, Mountain View Regional Hospital, Las Cruces Acute Rehabilitation Center, and Mesilla Valley Hospice for their care and support.
Ismael's tribute was written in his honor by his loving family.