By Linda Fresques
(575) 646-7416
Sep 15, 2023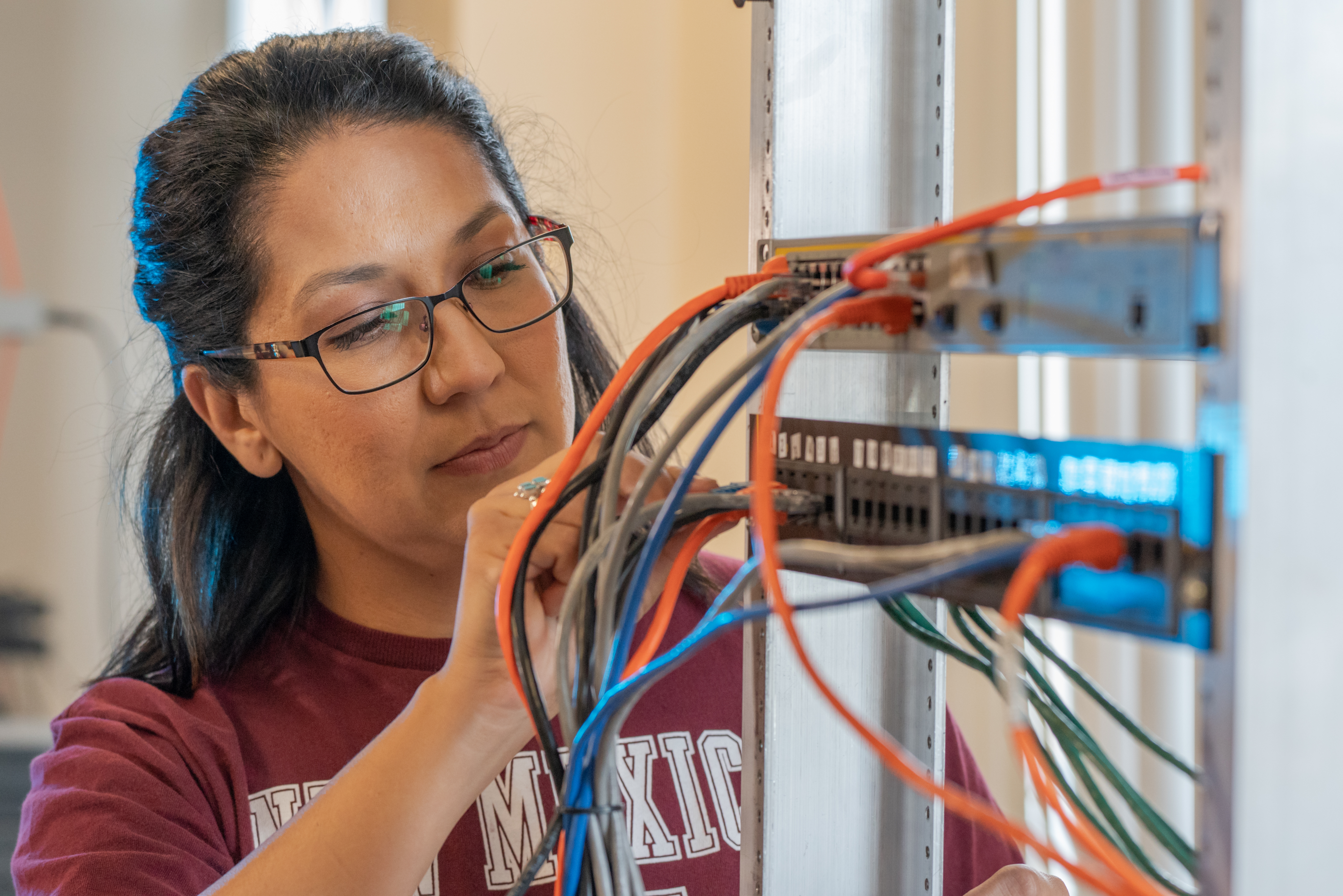 Forbes Advisor has ranked New Mexico State University's College of Engineering online Information and Communication Technology bachelor's degree program among the top 10 Best Online Information Technology Degree Programs of 2023.
"IT professionals are the backbone of our digital world. Their expertise and dedication keep our systems running smoothly, protect our data from cyber threats, and drive innovation across industries. In today's interconnected and technology-driven landscape, the role of IT professionals is more critical than ever," Assistant Dean and Engineering Technology Department Head Gabe Garcia said. "We have an exceptional IT program here at NMSU that continues to grow in popularity as the demand for professionals with these skills increases."
Statistics relevant to ICT job opportunities, as calculated by Gray Associates on academic performance include, 246,013 IT job postings over the last 12 months, 7.7 job postings per graduate, and $88,900 average salary for bachelors' information technology graduates. Gray Associates performs analysis based on widely recognized data sources.
One of the major factors in the Forbes' ranking is flexibility in NMSU's program. It is unique in that it offers two different pathways. One is an online two-year degree completion educational path and the other is a four-year program. Students may begin the fully online program at the freshman level. Alternatively, graduates of computer and technology-related associate degree programs from community colleges, or students who have completed the freshmen and sophomore years of computer or technology-related programs at four-year institutions, may enter the program.
The Forbes' ranking also highlighted NMSU's 120-credit ICT program for several other factors. The program offers hands-on training via virtual machines and networking simulation equipment. ICT majors complete a project capstone project during their senior year. Key coursework covers Linux system administration and Windows enterprise administration. Cyber defense, network technologies and software development concentrations are available.
"Our program is growing in popularity as the need for people with these skills increases," Garcia said. "It was designed to accommodate nontraditional students, such as people who are already in the workforce looking for flexible scheduling and online access. Yet, it is popular with traditional students as well. Approximately 10 to 15% of new students this fall semester entered the program as freshmen." 
The Forbes Advisor Education team sources data from the National Center for Education Statistics and the U.S. Bureau of Labor Statistics, as well as from professional organizations and education providers' websites. Their rankings are based on student outcomes, affordability, student experience, credibility and application process. To see the full text of the rankings, visit https://www.forbes.com/advisor/education/online-information-technology-degree-programs/.
To learn more about NMSU's ICT program, visit https://et.nmsu.edu/academics%20/information-communication-technology.html, or contact Philip Braker at 575-646-1116 or pbraker@nmsu.edu.