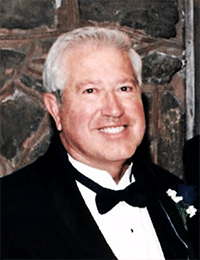 Robert (Bob) Isidore Ferran left this earth Sept. 16, 2023 at the age of 87 years. He was born in Santa Fe, New Mexico Nov. 15, 1935 to Marianita Flossie (Cortez) and Isidore Hipolito Ferran of Santa Fe and Gallina, New Mexico. He was the youngest of six children.
Bob attended school in Santa Fe and spent summers and weekends working on his family's ranch near Gallina and Coyote, NM. He graduated from Santa Fe High School and went on to play baseball for New Mexico State University while earning an engineering degree. At one point he was being scouted by a professional baseball club, until a shoulder injury put an end to any hopes of playing professional ball.
Bob met his future wife, Viola Wood, while they were both working for the U.S. Army Corps of Engineers in Albuquerque, NM. They were married Dec. 7, 1968, and they started their family the following year.  They welcomed their first son, Rocky Robert Ferran, in the fall of 1969 while still living in Albuquerque, and later welcomed their second son, Scott Garrett Ferran, in the winter of 1971 after having moved to White Rock, NM.
Bob treasured his family, and he enjoyed coaching his sons' baseball and basketball teams throughout their youth. He was always up for playing catch, hitting the ball, or throwing batting practice for the boys, and he could often be found at the baseball fields watching the local kids playing in the Little League games.
Bob loved to take his family camping in the mountains of New Mexico and Colorado as his sons grew up, and they have many cherished memories of fishing, hiking, gold-panning, and playing card games by lantern light while out camping in the woods. There were many times when one of the family members would crack a joke or just started giggling while playing games in the evenings, and soon the whole family was laughing so hard that they were crying and could hardly breathe.
Bob loved animals of all kinds, but he especially loved dogs and horses. He would daily take the dogs (to whom he often gave funny nicknames) out for walks in the arroyo behind the house. The dogs could hardly contain themselves every time he hinted to them that it was time to go for a walk. For many years he had a horse named Hammerhead (due to his unusually shaped head) that he would ride up in the mountains while rounding up a few cattle or just exploring the woods.
Bob spent most of his career working for the U.S. Department of Energy in Los Alamos, NM. As the sole bread winner for his family, he worked hard to provide a modest but comfortable living so his wife, Vi, could stay at home while raising the boys. There was never a single regret for living on only one income, and his wife and sons are grateful and indebted to him for his love, provision, and selflessness.
Bob was preceded in death by his parents Isidore and Flossie, and by all of his siblings: sister Lorraine Padilla, brothers Julius Ferran and Gilbert Ferran, and sisters Edna Ferran and Elsie Hays. Bob is survived by his wife of 54 years, Vi Ferran, his sons Rocky (wife Amy) and Scott (wife Mandy) of Los Alamos, and seven grandchildren: Ashlynne, Mireya, Ryland, Larissa, Lindsay, Sabrina, and Shane, as well as numerous nieces and nephews.
The family wishes to thank all of the loving staff from Sombrillo, Aspen Ridge, The Beehive Homes, and AmberCare Hospice, as well as all of the medical professionals who cared for Bob during the last years and days of his life.
Services will be held at the Immaculate Heart of Mary Catholic Church in Los Alamos at 11 a.m. Saturday Oct. 7, 2023 with a reception to follow in Parish hall. Rivera Family Funeral Home of Los Alamos is honored to assist, and encourages family and friends to post pictures, stories, and condolences at www.riverafamilyfuneralhome.com
Please consider donating to the Alzheimer's Association.