By

Tiffany Acosta

575-646-3929

June 27, 2023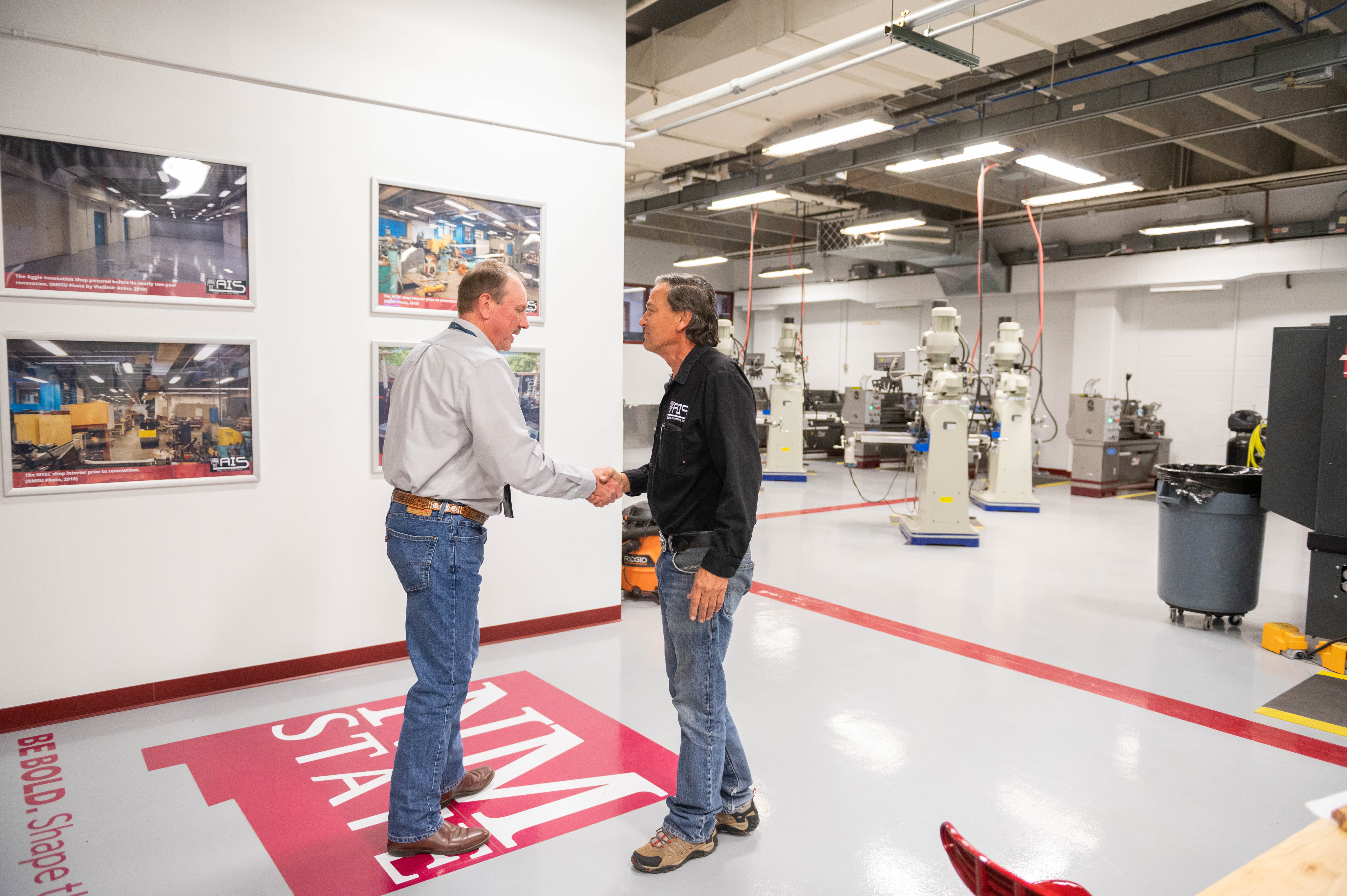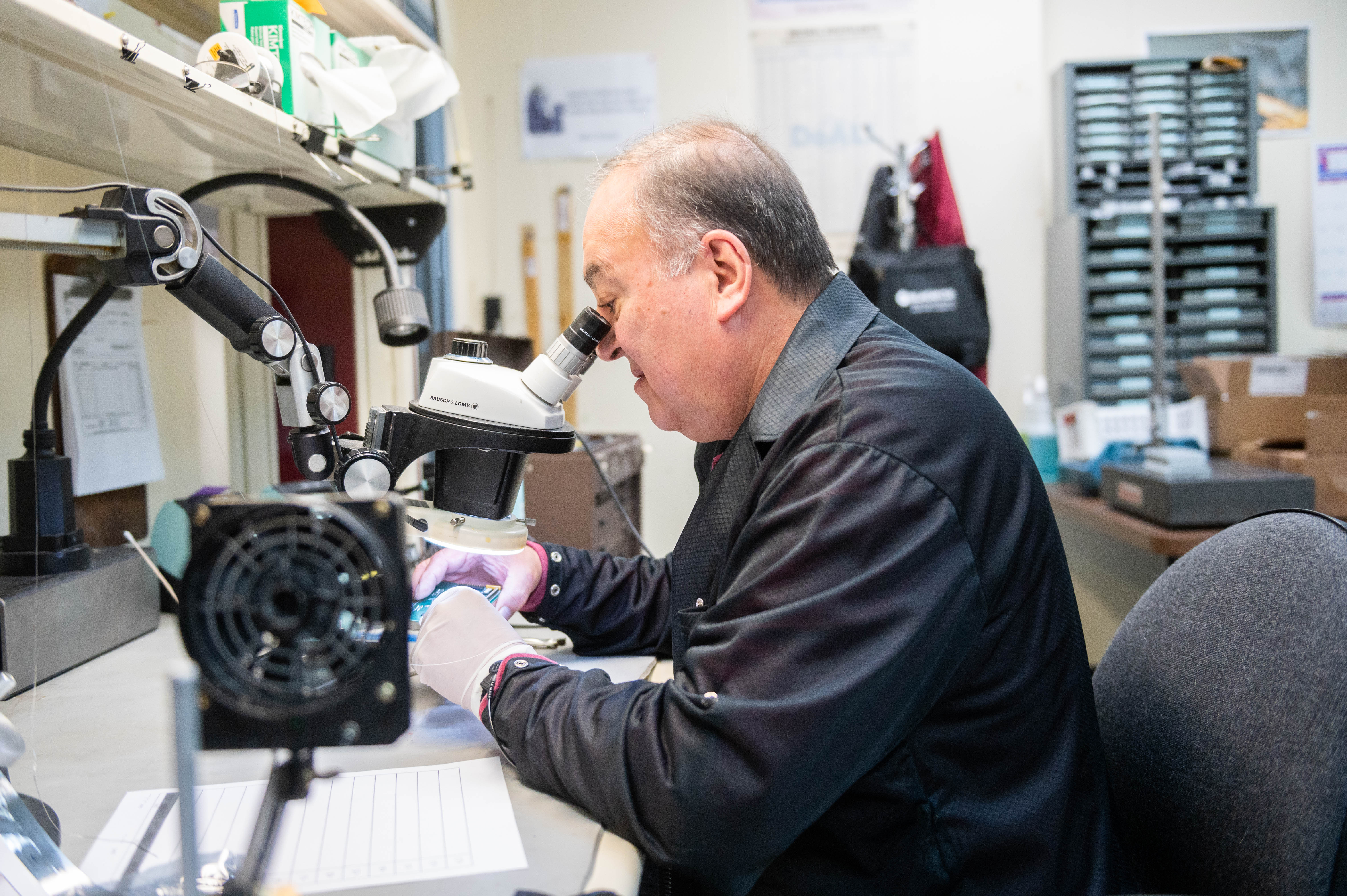 From making personal protective equipment for local health care workers to helping students with capstone or competition projects to working with faculty and graduate students on research projects, students and staff at the New Mexico State University College of Engineering's Aggie Innovation Space aren't afraid of a new challenge.
Established in 2014 to give students, faculty and community members access to state-of-the-art resources to help foster innovation and entrepreneurship, AIS now maintains two areas in NMSU's Engineering Complex 1. Located on the second floor is a student-managed makerspace with a 3D printing area, and on the first floor is a modernized machine shop. A 3D metallic additive manufacturing facility will be added soon.
In fall 2021, the NMSU Physical Science Laboratory's Quality Assurance Department and AIS started working together. The collaboration supports PSL's Quality Assurance machining efforts for its defense industry customers. PSL is a multi-disciplined, aerospace and defense-oriented research and development organization.
"The collaboration between the Physical Science Lab and the Aggie Innovation Space is a great example of NMSU alumni working together to not only support critical national security needs, but training and mentoring the next generation of alumni who will enter the workforce," PSL Director Eric Sanchez said.
Since 1946, PSL has supported technology and national security advancement. While PSL was established in response to the nation's space and rocket programs, the current focus includes electronic warfare, counter measures, cyber, telemetry and missile systems, aerospace and scientific ballooning. Additionally, PSL operates an FAA-approved Unmanned Aerial Systems Flight Test Site at the Las Cruces Airport.
The involvement of NMSU students in applied research projects has been a cornerstone of PSL's important mission and during the last 77 years, they have employed hundreds of student employees and co-ops. 
"Working with PSL gives our students the opportunity to learn how to use manufacturing equipment, design process, mass production, quality control and teamwork," AIS Operations Manager Ken Ruble said.
PSL's Quality Assurance Department establishes and maintains set requirements for developing or manufacturing reliable products. From the proposal phase through the product shipment, a quality assurance system is used to improve work processes and efficiency, and it allows PSL to better serve its customers.
To fulfill its defense industry orders, PSL has several mechanical items that need to be fabricated, specifically using Computer Numerical Control milling machines. AIS staff program the CNC machines to manufacture the parts using computer drive controls, which creates a part that is extremely accurate, and all parts are identical. AIS uses PSL controlled build documentation such as drawings and travelers to ensure configuration control of each item. Prior to a production run, AIS will produce a first article, which is one complete item, and then a PSL mechanical inspector examines the item to ensure all dimensions are in compliance with the drawing. Once approved, AIS completes production.
"Working together with AIS, PSL has stayed on schedule with our customer orders," PSL Quality Assurance Director Chris Wise said. "It has really been a win-win situation for both PSL and AIS. They have been able to provide us with a quality product and have been easy to work with. Our orders have provided a challenge for their employees and is increasing their capabilities. Having on-campus support like this has made communication easy—they are literally across the street."
"We initially only had two students and staff personnel working on the PSL projects," Ruble said. "The revenue generated from the PSL project has allowed us to increase our student employment to five students."
A version of this story was first published in the spring 2023 issue of Panorama, NMSU's alumni and friends magazine. To read the issue, visit https://panorama.nmsu.edu.