By 

Carlos Carrillo López

575-646-1955

May 10, 2023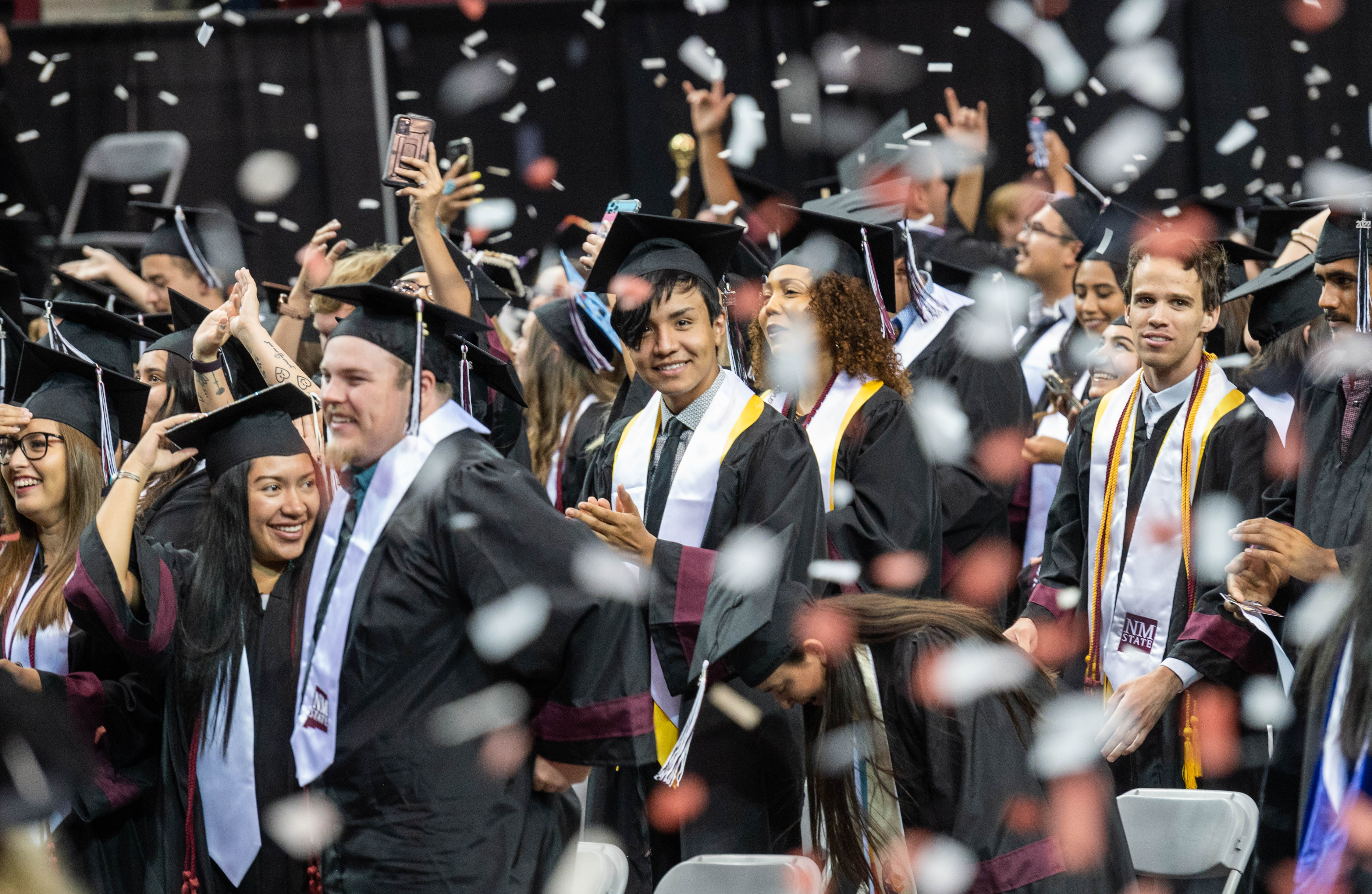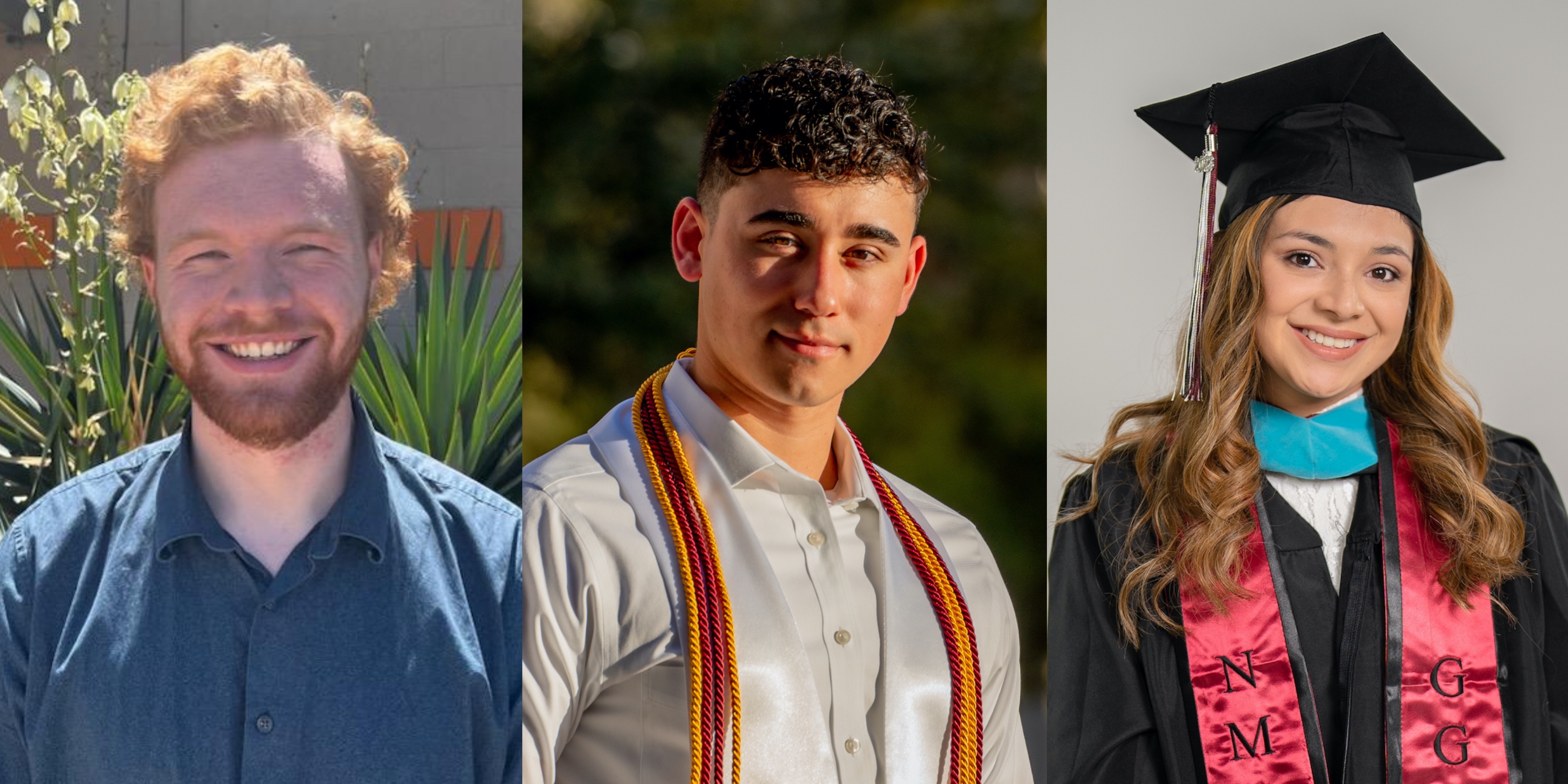 New Mexico State University will host its spring 2023 commencement ceremonies this week and bestow more than 1,400 degrees.
NMSU will first honor students who completed graduate degrees in a commencement ceremony at 6 p.m. Friday, May 12, at the Pan American Center. Then, it will honor students who completed bachelor's degrees in two separate ceremonies at 9 a.m. and 2 p.m. Saturday, May 13, also at the Pan American Center.  
The Saturday morning ceremony will honor undergraduates from the College of Health, Education and Social Transformation, College of Agricultural, Consumer and Environmental Sciences, and College of Business, while the afternoon ceremony will honor undergraduates from the College of Arts and Sciences and College of Engineering. 
Amber Sedillo is part of a group of nearly 500 students who will receive a master's degree.
Sedillo, who will earn a master's degree in public administration from the College of Arts and Sciences, plans to participate in the graduate ceremony. It is her second degree from NMSU. 
"I graduated with my bachelor's degree in 2021, but I decided not to participate in the commencement ceremony at Aggie Memorial Stadium because I knew I was going to continue my education," she said. "But this time, I will walk across the stage to get my degree. For me, it'sa big deal because it will probably be my last time. I don't know if I will pursue another degree, but I know I'm done with school at least for now." 
Sedillo, who hails from Roswell and a family of Aggies, has accepted a full-time position as the director of development and community engagement at Jardin de los Niños, a Las Cruces nonprofit where she previously completed a summer internship. 
"When I started the MPA program and began learning about nonprofit organizations, it sparked my interest," said Sedillo, who was recently inducted into Pi Alpha Alpha, a national honor society for public affairs and administration students. "The MPA program led to Jardin de losNiños, and once I interned with them, I knew that's where I wanted to be." 
Dominic Madrid will also start a full-time job with ExxonMobil in Houston after he earns a bachelor's degree in chemical and materials engineering. Madrid, who grew up in Artesia, came to NMSU in 2019 after completing two years of junior college at the New Mexico Military Institute in Roswell. Madrid said he received the job offer following a five-week fellowship. 
"The college did a great job with helping me and my peers launch into our careers," he said. "I want to say that out of 24 students from our department, 22 of us already have jobs lined up." 
Madrid said he gravitated toward the problem-solving aspects of engineering early in his college career. From his first class with Catherine Brewer – an introduction to engineering course – he knew he was on the right path, he added. 
"Dr. Brewer made it a very enjoyable experience," he said. "I know most people think this field is too difficult, but I realized  early on that this is where I'm supposed to be."
Madrid will graduate with highest honors from the College of Engineering, an achievement he said he pulled off by managing his time as best he could and learning how to make sacrifices.
"Of course," he said, "having a good support system helped me in many ways. Many of the students in my classes were extremely helpful, as were my teachers and family." 
Benjamin Boldt will also graduate with the same distinction – highest honors – but from the College of HEST and College of Arts and Sciences. Boldt, a Las Cruces native, will earn one bachelor's degree in counseling and community psychology and another in psychology. 
By the time Boldt began attending NMSU full-time in 2020, he had already earned several college credits through Doña Ana Community College as a student at Arrowhead Park Early College High School – which helped him complete his degrees over three years. 
"I want to be a therapist," he said. "Countrywide, there's a therapist shortage, but it's even worse in New Mexico. I want to aim my future career goals toward becoming a therapist and helping underserved populations." 
Boldt said he felt drawn to NMSU because he wanted to stay and work in New Mexico. He plans to continue working and volunteering as he considers applying to a master's or Ph.D. program at NMSU. 
"With my free time, I'm looking to help Las Cruces as a whole in any way I can," he said. 
Boldt said the best advice he learned in high school was to work smarter, not harder – something that later helped him juggle classes with work at NMSU and become the top student in two colleges. 
"College isn't hard – it's just different," he said. "Prioritizing was certainly my friend. I think a lot of it was also being interested in the subject matter. It was almost like a consequence that I was able to get good grades because I was interested in what I was learning." 
The Pan American Center will open to the public one hour before each ceremony. Tickets are not required. Graduating students should also arrive one hour before the ceremonies start. 
The three ceremonies will also be livestreamed on NMSU's YouTube channel. For more information, visit https://commencement.nmsu.edu.