By Linda Fresques
575-646-7416
Feb 08, 2023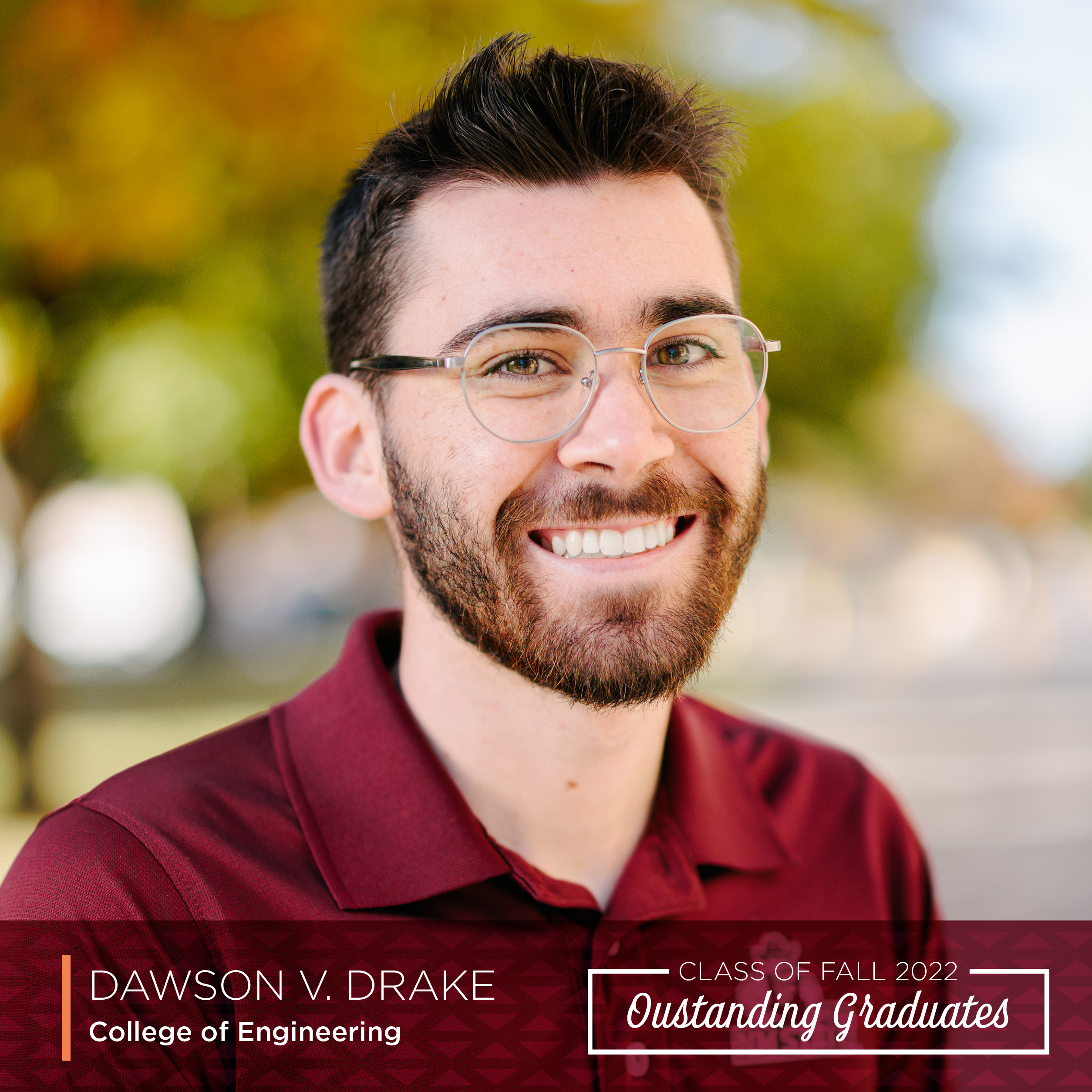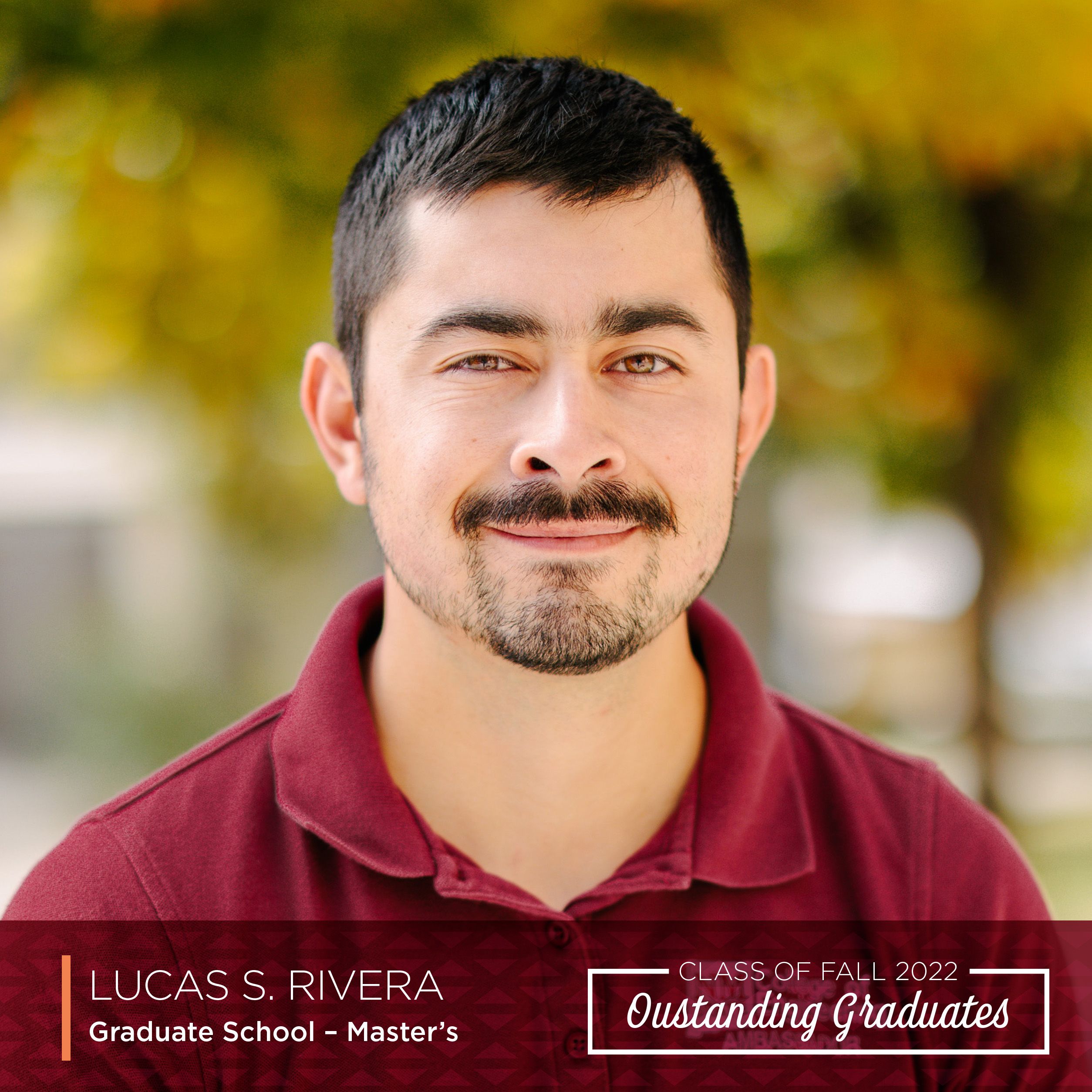 Each semester, the Outstanding Graduate Awards, the NMSU Alumni Association's highest honor for a student, recognize graduates from each academic college, as well as a master's and a doctoral student from the Graduate School. 
Lucas S. Rivera was named Outstanding Graduate. He has received accolades before; named the College of Engineering Outstanding Graduating Senior in fall 2020. He is earning his master's degree in civil engineering with emphasis in geotechnical and water resources engineering. He achieved a GPA of 3.996 while working as a graduate research and teaching assistant. He has also passed the Fundamentals of Engineering exam and is aiming for professional licensure. He has received numerous scholarships, including a U.S. Society on Dams scholarship and Dwight D. Eisenhower Transportation Fellowship. 
Rivera has worked and led various projects for impoverished populations in at least eight countries. In Dec. and Jan. of 2020-2021, Rivera worked in Tanzania to raise funds and started a kitchen for an orphanage and primary school (he also summitted Mt. Kilimanjaro). He was the project lead for Aggies Without Limits (AWL) projects in Nicaragua in 2021. He volunteered at Kruger National Park in the Republic of South Africa in 2021. Last summer, he joined AWL in Honduras to reconstruct a bridge. 
Closer to home, he has volunteered through AWL to help Homes for Homeless Veterans, La Casa Shelter for Battered Individuals, refugee housing and relief and more.
Rivera will join the Peace Corps Volunteers program in Peru in spring 2023 and plans to use his engineering skills to lead water implementation projects for those who do not have access to potable water. 
Dawson Vanterrance Drake and has a 4.0 GPA and has earned bachelors' of science degrees in electrical engineering and computer science. He was named College of Engineering Outstanding Senior and Highest Honors student. 
Drake earned a position at U.S. DOD Center for Countermeasures, White Sands Missile Range, in 2019. He is currently a student employee at the Physical Science Laboratory and a member of the CREW Classified Ready Employee Workforce Cohort for 2020-22. 
As co-lead for NMSU's Atomic Aggies team in 2021 and 2022, Drake had oversight of the design and development of the avionics system for the competition rocket. He also served as the point of contact for collaborations with other teams from around the world. Drake represented the Atomic Aggies at public events to display and explain the rocket and sub-systems. He also led STEM outreach efforts encouraging K-12 students' involvement in STEM activities.  
Drake plans to seek a master's degree in electrical engineering after which he plans to pursue a career in the space industry. 
Honorees are chosen through a rigorous nomination and dean selection process. They were recognized during the Fall 2022 Commencement exercises for their exceptional academic achievements, notable leadership skills and extracurricular commitment to the university and community.