By Linda Fresques
Oct 10, 2022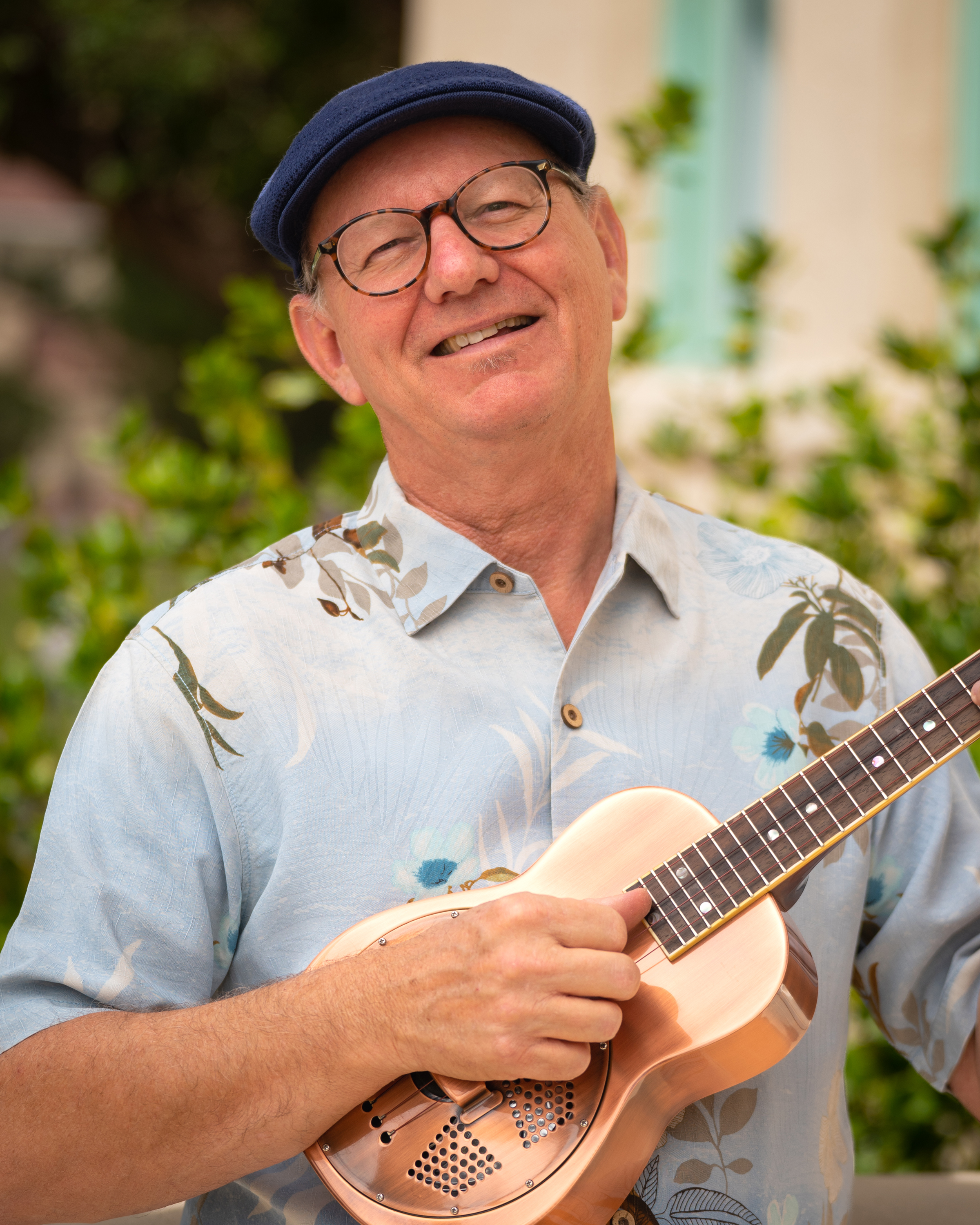 Music and technology have always been a part of life for Robert "Bob" Hull. Growing up in a home with a musically inclined mother and a broadcast engineer father, the retired New Mexico State University engineering technician continues his lifelong passions.
To the delight of music lovers in Las Cruces and beyond, he is the Chief Musical Officer of the Las Cruces Ukes club, plays in the Rio Grande Revelers—a Dixieland band, and records and performs with other local musicians.
While in a music store in the sixties, the Ohio native saw a guitar version of the "Beatles" bass and begged his mom to purchase the guitar with the promise that he would practice every day. He did. And when Hull was just 16, his music teacher handed the teaching job over to Hull.
Hull eventually ended up in Phoenix working at an aerospace engineering company when he discovered the Roberto-Venn School of Luthiery. He left his job and worked in a guitar shop while learning the art of making and repairing string instruments.
He decided to get back into technology and in 1989 was offered a job at NMSU's Particle Astrophysics Laboratory.
"Before I took the job," said Hull, "I checked out all of the music stores in Las Cruces. I went to Hubbard's, Mesilla Valley Pro, Mountain Music, and I was gratified that city had an active musical community."
And he started making connections, establishing a friendship with Steve Smith, one of the top mandolin players in the country and founder of the Hard Road Band. Hull and Smith both play mandocello, an instrument the size of a guitar that is tuned like a cello.
Hull plays a number of other instruments - acoustic and electric guitar, bass guitar, tenor banjo and ukulele; in a variety of styles - pop, jazz, country, folk. He also sings and composes.
Hull made his first recording, a folk rock 45 single, with the Cleveland area band "Feather," in the 1970s. In Las Cruces, he has recorded music with the Hard Road Band, and with Chris Sanders, on her solo CD "Rare Bird." Sanders and Hull have performed at La Posada, Mesilla Valley Hospice, each week for a number of years.
He joined the Las Cruces Ukes about 10 years ago and over the years, with his help, the group's skills have improved and hosts an annual Uke Fest. The group has live performances, including an annual Christmas concert at Good Samaritan.
Room to Roam is trio of guitar, ukulele and vocals that Hull performs with.
"It's named for the eclectic genres we play; we give room to roam wherever we want to go: Celtic, Latin, jazz standards, country, pop, self-composed," he said.   
Hull is still involved with technical work at NMSU which began at the Particle Astrophysics Laboratory.
"I worked with Dr. Robert Golden on massive payloads for scientific high-altitude balloons for the NASA Balloon Program," said Hull.
Golden's postdoctoral assistant was Steve Stochaj. Golden, Stochaj and Hull worked for the College of Engineering - Electrical and Computer Engineering Department, although the research was cosmic-ray physics.
Hull assisted the department's researchers and students with their projects for some 25 years and now works part-time doing the same.
"There have always been tremendous opportunities to do interesting technical work on research with the electrical engineering department," Hull said.
He is currently working with Electrical Engineering Professor David Voelz and Astronomy Professor Nancy Chanover on a project involving the 3.5-meter telescope at Apache Point Observatory. They study images of the light wave lengths of the atmosphere of Jupiter to determine its elemental composition.
Using his auditory skills, Hull assisted with a student project initiated by a blind man who wanted his cane to emit audio alerts to sense things like hallway water fountains and signs mounted overhead—hazards that would not be detected by a cane designed to sense ground-level objects. The project was successful and led to an unusual request.
"A few years later, I got a call from him. He said, 'I'd like for you to compose some music for me. I did a painting with the help of an artist friend who guided me on the canvas to paint a guitar with a rainbow coming out of it,'" Hull said. 
Hull and Sanders teamed up and considered various concepts, none of which seemed quite right until Hull just picked up the guitar and Sanders sang and they composed a song. The client was thrilled with the result that represented his visual creation through music.
"There are parallels with math: symbols, syntax and logic that are relatable to music, such as rhythm and meter," Hull said. "But you can't reduce music to a number. It's more of an emotional expression than an arithmetic expression."