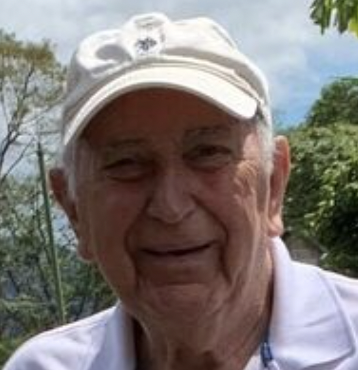 ASHLAND – Richard Henry Eldredge, of Venice, Florida, formerly of Ashland and Falmouth, passed away on July 6, 2022 in Venice. 
He was the husband of Ana Maria (DePriest) Eldredge. 
Born in Framingham, he was a graduate of Framingham High School, Class of 1952 and New Mexico State University with a Bachelors Degree in Mechanical Engineering.  He then received a Masters Degree in Mechanical Engineering from Northeastern University. 
He was employed by Dennison Corp. in Framingham and the Polaroid Corp. of Waltham and Norwood. Later he was employed by GSE/Micro E of Natick and Newton as the Facilities Engineer. 
Active in his communities and while living in Falmouth, he volunteered for the Falmouth fireworks, the Falmouth road race and the Falmouth parade. 
Richard is survived by his sons, David Eldredge  and his wife Lisa of Bourne and Gary Eldredge and his wife Peggy of Millis; his grandchildren: Danielle Clark of Falmouth, David Eldredge, Jr. of Falmouth, Olivea Eldredge of Centerville, Nathan Eldredge of Hyannis, Noah Eldredge of Hyannis, Ian Eldredge of Millis, Patrick Eldredge of Millis; great grandchildren: Joshua Clark, Jr., Isaac Bonilla, Julien Bonilla, Jadien Bonilla, Penelope Eldredge, and Nora Eldredge. He was predeceased in 2001 by his first wife, Joyce (Morrill) Eldredge. 
A funeral service will be celebrated Wed. July 27 at 11 a.m. in the Chapel of the Matarese Funeral Home, 325 Main St. Ashland, with urn burial to follow in Edgell Grove Cemetery in Framingham. 
Visiting hours will be held Wed. from 9:00 to 10:30 a.m. prior to the service. 
In lieu of flowers donations may be made to the Ashland Senior Center, 162 West Union St. Ashland, MA  01721 – Please make checks payable to Town of Ashland. 
Source:https://framinghamsource.com/index.php/2022/07/20/richard-henry-eldredge-87/