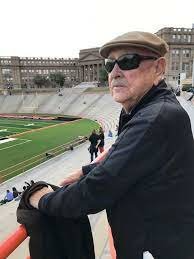 Orlando Cervantes passed away peacefully on Thursday, June 23, 2022. He is preceded in death by his parents Matias Cervantes and Jesusita Baca Cervantes, brothers Matias, Ysidro and Alfonso and sisters Ernestina, Lupe and Beatrice. He is survived by his sister Jessica and his children Joseph Cervantes and his wife, Jennifer; Dino Cervantes and his wife, Leslie; and Kristina Cervantes-VanderLugt. He is beloved by six granddaughters: Alyssa Cervantes Wilson (Cole), Alexandra Cervantes, Isabella Cervantes, Juliana Cervantes, Jacqueline Cervantes-VanderLugt, and Elizabeth Cervantes-VanderLugt. He will also be missed by his dear friend and companion, Rose Garcia. Orlando's family wishes to give thanks to his devoted caregivers, Maria Rojas and Martha Zamarripa for the devotion, compassion and excellent care they provided over the years.
Orlando was born on July 29, 1932, in El Paso, Texas. He graduated from El Paso High School after excelling in all sports and being named to the all-district teams in baseball and football. In 2018 he was inducted into the El Paso High School Hall of Fame. Orlando received a football/baseball scholarship to attend New Mexico State University. After his freshman year, he joined the Army in 1953 and received an honorable discharge in 1955. Afterward, he returned to New Mexico State University and received his civil engineering degree. He met and married the mother of his children, Emma Jean Apodaca-Cervantes who came from a farming family in the Mesilla Valley.
Orlando was a visionary and as the manager of J. F. Apodaca Farms one of his proudest accomplishments was bringing a new crop and industry to the Mesilla Valley: Peppers grown for Louisiana style hot sauces.
An engineer and builder at heart, Orlando bought properties in Las Cruces and began an engineering firm. In that effort he played a role in the design and construction of many projects around Las Cruces. The most notable was the building of the new library at New Mexico State University.
He served on many community boards such as the Rio Grande Natural Gas Co. and served as Chairman of the Doña Ana County Planning and Zoning Board. Additionally, three New Mexico Governors sought his service on state boards. His generosity of time extended to additional community contributions as well. In 2017 he funded the La Clinica Cervantes Complex to provide medical assistance to the people of Doña Ana County.
While Orlando was a noted entrepreneur, his greatest joy was his three children, instilling in them the values of hard work and integrity.
His most treasured time was spent around the holidays, gathering with family and friends at his annual Christmas party. He also loved watching all New Mexico State Aggie sports and was an avid supporter. Orlando leaves a meaningful legacy of purpose and vision and he will be greatly missed.
The funeral mass will be celebrated at noon, Friday, July 8, 2022, at St. Matthew Catholic Church, 400 W. Sunset Rd., El Paso Texas. The right of committal and interment will follow at Memory Gardens of the Valley at 4900 McNutt Rd. Santa Teresa, NM 88008.
In lieu of flowers the family is requesting that donations be made in Orlando's name to the NMSU Foundation 1305 N. Horseshoe Dr. Las Cruces, NM 88003 to support the Orlando Cervantes Scholarship in the College of Engineering or to the Department of Athletics, or to the Discalced Carmelite Nuns of Las Cruces at 2015 Glass Rd., Las Cruces, NM 88005. Service arrangements have been entrusted to the care of Martin Funeral Home 128 Resler Dr. El Paso, Texas.