By Beca's Funeral Chapels Staff
May 07, 2022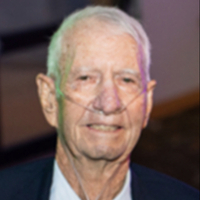 George Henry Abernathy passed away peacefully at home at the age of 92 on May 7, 2022 at 10:30 p.m. George was born November 9, 1929, in West Newton, Pennsylvania to Ellis Hugh and Eva Lasca Gray Abernathy where his father was working at the time.
The following year the family moved back to New Mexico. His father was a plumber, steam fitter, surveyor, and rancher. George grew up on a small cattle ranch north of Roy, New Mexico, and graduated from Roy High School in 1948. He attended New Mexico A & M, now New Mexico State University, room 1948 to 1952 and graduated with a Bachelor of Science in Agricultural Engineering in one hand and a commission as a Second Lieutenant, US Army, in the other.
He spent his military duty in Korea building roads for the Corps of Engineers. In 1954 he began a master's program in Agricultural Engineering at University of California, Davis (UCD) and graduated in 1956. While at Davis, he met Sandra Gail Marshall and they were married in 1955.
George moved to Las Cruces January 1957 to join the Agricultural Engineering Department at NM A&M. Sandy followed in June after she completed her Bachelor of Science in Biology from UCD. There, they raised four children, George Hunt Abernathy, DVM, Katherine Jean Abernathy-Carver, MD, Robert Lloyd Abernathy Ph.D., Mechanical Engineering, and Patricia Abernathy Smith MS, Electrical Engineering. In 1963 George began a doctoral program in Agricultural Engineering at Oklahoma State University and received his Ph.D in Agricultural Engineering in 1967.
During his tenure at New Mexico State University from 1957 to 1987 he was an Assistant Professor, Professor, and Department Head of Agricultural Engineering. He taught Farm Power and Farm Machinery courses including water rights, worked on mechanical, diesel, gas, solar, geothermal, and photovoltaic projects, and tested New Mexico farm irrigation pumps for efficiency.
Later he worked under USAID spent time in Yemen and Egypt working with engineers. He also visited Pakistan cotton gins and brought several of the cotton gin managers to the USA where they visited American cotton gins.
In 1969 the family bought a 28 acre farm, which they worked, raising cotton and alfalfa. Being a machinery person, as each child reached driving age, he helped them repair their cars and rebuild the engines. George was a member of the Electric Car Club and converted a gas driven car to solar, then built a photovoltaic system to power the car. In the 80's George built a passive solar house with rock bed and metal roof, and in the 2000's added solar panels to the house. He was the first person in the area to send solar power back to El Paso Electric Company. George H. Abernathy was a beloved father, husband, mentor to his students and a cherished friend to many. His father gave him his ability to solve any mechanical problem in his head and implement it. His mother gave him his peaceful nature to work with people. His life was what he wanted. He grew up on a small cattle ranch, went to college, became an agricultural engineer and head of the department, worked with mechanical tools, could solve any problem mechanical or theoretical, taught, managed his own farm, travelled extensively, and was head of his household.
While on the farm, he used to help neighbors who needed small things done. One time a lady moved into the area and asked him for help with her yard. She asked him if he would do "this" and he said yes. She asked him if he would do "that", and he said no. This went on for several minutes. Finally, she exclaimed, "I know what you will do! You will do anything on a tractor but nothing on the ground!" He smiled, and answered, "Yes." George is preceded in death by his parents, Ellis and Lasca Gray Abernathy, and his daughter-in- law, Marni Abernathy. He is survived by his wife Sandra, four children and their spouses: George Hunt Abernathy and Jackie; Katherine Abernathy-Carver and Michael Carver; Robert Abernathy; Patricia Abernathy Smith and Randy Smith; ten grandchildren and their spouses: Andrew Abernathy and Aubrey; Christopher Abernathy; Sydney Abernathy and Elijah; Gregory Abernathy; Christine Carver; Michelle Carver; Sean Abernathy; Ben Abernathy; Matthew Smith; Nathan Smith; George's sister Jane Abernathy Pratt; and many other relatives and friends. He will be sorely missed.
Memorial donations may be made to The Abernathy Family Endowed Scholarship in the College of Engineering, c/o NMSU Foundation, PO Box 3590, Las Cruces, NM 88003-3590, online at NMSU Foundation.org, In Memory of George H. Abernathy, or to the charity of your choice. A memorial service will be held at a later date at First Presbyterian Church. To leave a message on Baca Funeral Chapels' online guest book, please visit