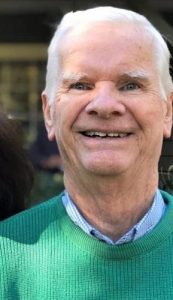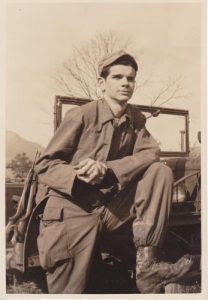 On June 7, Richard "Dick" Peter Beairsto passed away peacefully at his home, surrounded by his family and creating love and laughter even in his final hours.
Dick was born on February 28, 1933, in Yonkers, New York, one of five children of Joseph and Agnes Beairsto. Though he grew up in a modest neighborhood, he was always fiercely proud of where he came from. When he graduated high school, he exaggerated his age (it sounds awful to say someone "lied" in their obituary) to enlist in the Army and honorably served three years in Korea. When he returned home, he enrolled at New Mexico State University, studying electrical engineering and business. Dick was working part-time for an electrician after classes, when a pretty, young nurse named Kay entered the doctor's office he was wiring and "sparks flew." He and Kay married and later had their first son in New Mexico while Dick finished school. After graduating, Dick began work at McDonnell Douglas -where he helped develop guidance systems for ballistic missiles and got his first exposure to mainframe computers.
The computer bug bit and Dick soon moved his new family to Minneapolis – Kay's hometown – where he began work on his MBA at the University of Minnesota. The couple had four more children in the next four years, three boys and (finally) a girl. Dick's first job in the business world was with IBM and with it came the start of a long career in the IT field. Dick had a distinguished career, advancing quickly to several executive management roles, eventually finishing his professional life as an officer with the Krystal Company in Chattanooga. 
Although most known publicly for his career accomplishments, Dick was far more proud of his role as husband and father. He cherished his big family and relished any time that they could all spend together. He and Kay were inseparable for over 60 years and their relationship was a living, breathing example of the amazing power that love and commitment can create. Their life together has served as the benchmark for the generations of Beairsto marriages that have followed. 
Dick had a strong and genuine curiosity about the world – a true, palpable yearning for knowledge. Maybe it was the engineer in him, but he loved figuring out how things work. He instilled this inquisitive nature into his children and grandchildren by exposing them to frequent travel, unique vacations, different foods, cultures, and life experiences, and, of course, his ad-hoc "learning opportunities" on subjects that ranged from baiting fishing hooks to string theory to why the outboard motor would not start. Despite his notable and well-documented lack of patience in most areas, he was an enthusiastic teacher (and student). He guided three generations of Beairstos in everything from the art of throwing a curve ball, to fixing an alternator, to playing chess, to finding the North Star, to packing the perfect snowball. Most importantly, he led by example in teaching his crew the foundational traits of integrity, honesty, hard work, faith and treating all people with respect.
Dick retired early to fully indulge his many hobbies and interests and to learn a few new ones. The list is long and diverse and includes: flyfishing, watercolor painting, carving and woodwork, golf, gardening, skiing, archeology, banjo lessons (thankfully short-lived), hiking, tennis, and many more. Dick loved the water and spent as much time on and around it as he could, whether it be beaches, cruises, boating, fishing, or just relaxing at their vacation home in Crystal River.  
For most, Dick will be missed for his curious intellect, his loyal friendship, his constant smile, and his quick wit. For those fortunate enough to call him Dad there will always be a part of him that will live on in them and in their children. A part that will remind them that it is the little things that matter in life and that unconditional love trumps all.
Dick is survived and will be missed by his five children, Kevin (Angela), Greg (Glynn), Doug (Murray), Scott (Paige), and Beth (Christine); ten grandchildren, Joseph, Patrick, Christian, Madeline, Sarah, Peter, Ben, Macie, Kohlie, and Alex; and three great-grandchildren, Camden, Beckett, and Brayden; his brother, Robert, and countless nieces, nephews, cousins, and friends.   
A visitation will be held on Thursday, June 17, 11 a.m.–12 p.m. at St. Jude Catholic Church, followed by a funeral Mass at noon. There will be a private family interment ceremony at the Chattanooga National Cemetery.
In lieu of flowers, please donate in Dick's memory to Catholic Social Services.
Arrangements are by Hamilton Funeral Home & Cremation Services; 4506 Hixson Pike, 423 531-3975.
This article was published on chattanoogan.com, https://www.chattanoogan.com/2021/6/11/429788/Richard-Dick-Peter-Beairsto.aspx