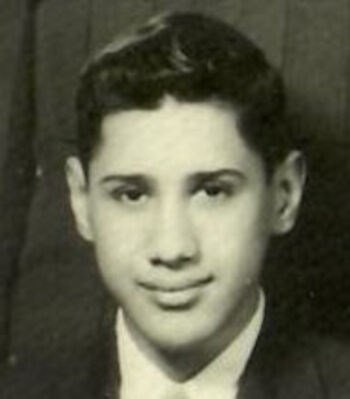 BORN

DIED

FUNERAL HOME

Getz Funeral Home

1410 E. BOWMAN AVE.

Las Cruces, NM
Daniel Nicholas Montes

Las Cruces - Daniel Nicholas Montes passed to his Lord on Saturday, July 3rd in Las Cruces, NM. He was born August 30, 1939 in Fort Worth, TX to Ignacio Montes and Maria del Refugio Dominguez Montes. He was the fourth of five children.

Dan was the first of his family to attend college, earning a scholarship to attend New Mexico Western in Silver City, before completing his bachelor's degree in engineering at New Mexico State University in 1963. While at NMSU, Dan had an internship at White Sands Missile Range, and after graduation was hired there as an electronics engineer at ECOM. He worked at WSMR for about 35 years. After retiring he taught and tutored math at Dona Ana Branch Community College and College of Southern Maryland.

Dan began doing volunteer service in college, serving as treasurer and lecturer at St. Albert the Great Newman Center, in addition to helping build the chapel there. At IHM he served as a Lector, Eucharistic Minister, Parish Council Representative, and Pre-Marriage Counselor. He also volunteered with the BSA Troop 260 at IHM. He later served as a Marriage Annulment Counselor for the Diocese of Las Cruces. Dan taught his family to be other-centered and to use their gifts to bless others. Many of them still cheer for the Dallas Cowboys as did Dan.

Dan is survived by his wife of 57 years, Judith Minichiello Montes. They had four children: Caterina Montes (John Forest); Marcos Montes (Gisela De La Rivera; He was previously married to Carolina Magallanez Montes for ten years before being widowed); Luis Montes (Alyson Greiner); and Miguel Montes (Angie Sullivan Montes). Dan's grandchildren include: Nico Montes (Jas Pitts); Vaitiare Tirado (Ashley Hand); Carlos Montes; John Mura; Angelina Montes; Michaela Montes Szewczyk (Michael Szewczyk); Orlando Forest; and Jeremiah Montes.

A prayer service and visitation will be held at IHM Cathedral at 10:00 AM July 30, to be followed by a mass at about 10:30 AM, celebrated by Msgr. John Anderson. Interment will be at the IHM Columbarium, followed by a reception at the parish hall. Dan would wish for all to come as they are without concern for formal, bereavement attire, but rather in joy to share one another's company.

In lieu of flowers, please make donations in Dan's name to IHM Cathedral or Casa de Peregrinos Food Bank, both in Las Cruces.

"I am the Resurrection and the Life," says the Lord. John 11:25

Arrangements by Getz Funeral Home 1410 E Bowman Ave. Las cruces, NM 88001. Please Visit www.getzcares.com to sign the local online quest book.