Innovation Imperative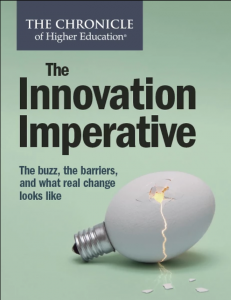 An important takeaway highlighted in the Chronicle of Higher Education's Intelligence Report, "The Innovation Imperative: The Buzz, the Barriers, and What Real Change Looks Like," is that we need transformative innovation along several dimensions. In its summary of 15 cases of how colleges have confronted challenges and brought meaningful change to their campuses, several struck me as relevant to NMSU engineering.
The University of Washington is creating a lifelong-learning model for the changing workforce by developing a 60-year curriculum. Plymouth State University is tearing down its silos by instituting interdisciplinary clusters to sustain and distinguish itself in the face of demographic declines.
The University of Cincinnati is creating an innovation district with multi-use space for the university and corporate partners where faculty members, students and local residents can gather to facilitate connections between higher education and industry and contribute to local workforce development.
To close the achievement gap of its students, University of Minnesota, Rochester, offers four "Just Ask" centers staffed by an interdisciplinary team of faculty members to advise students who may be too intimidated to go to a professor's office.
From these case studies, it is clear to me that mid-sized colleges such as ours offer fertile grounds to implement such changes. As negative as it may sound, it is convincing that "colleges that fail to address the changing landscape face peril, and their excellent programs or their hallowed traditions may not save them."