The Paradoxes of Learning Spaces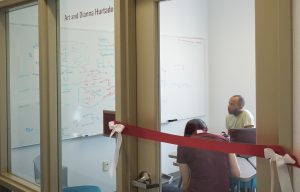 In "Courage to Teach," Parker Palmer offers six paradoxical characteristics of a learning space, which are very useful as we design our learning environment in the college:
 1. The space should be bounded and open.
2. The space should be hospitable and "charged."
3. The space should invite the voice of the individual and the voice of the group.
4. Space should honor the "little" stories of the students and the "big" stories of the disciplines and tradition.
5. The space should support solitude and surround it with the resources of community.
6. The space should welcome both silence and speech.
These are, in essence, the challenges ahead of us as we commit ourselves to a student-centered and learning-focused (as opposed to teaching-intensive) environment. We are guided by these characteristics in our Eloy Torrez Family Engineering Learning Communities, Aggie Innovation Space, and Ron Seidel Engineering Leadership Institute.