New collaborative opportunities at NMSU Engineering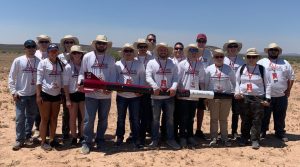 I'm very pleased to share with you news about two recent events that are of great significance to the College of Engineering.
Arrowhead Center welcomed Spaceport America as a new tenant this past week. At the same time, NMSU and Spaceport America signed a memorandum of agreement to form a collaborative effort to advance student success in the STEM fields, along with research, economic development and community outreach.
This strengthened relationship expands the learning environment for our students through offering real-life engineering challenges, particularly for our aerospace engineering students. I'm looking forward to working with Dan Hicks, CEO of Spaceport America and College of Engineering Advisory Council member, in forging new opportunities for our students.
Also this past week, Gov. Michelle Lujan Grisham announced a memorandum of understanding between the New Mexico Environment Department and New Mexico State University, which will create a produced water research consortium.
Through this consortium, New Mexico will continue to lead the country in advancing scientific and technological solutions related to the treatment and reuse of produced water generated by the oil and gas industry.
This provides a unique opportunity for our water researchers to develop new solutions to the treatment of produced water and at the same time, develop new source of usable water for communities experiencing water shortages. Faculty in the Colleges of Engineering and Agricultural, Consumer and Environmental Sciences are already working on collaborative research plans toward the development of novel solutions.