Energy-Water Desalination Hub puts NMSU at the top of national water research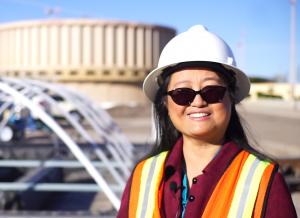 I am exceedingly pleased to share the news of the selection of NMSU's College of Engineering as part of a team that was awarded a U.S. Department of Energy five-year, $100 million grant to create the Energy-Water Desalination Hub to address water security issues. 
I offer congratulations to Professor Pei Xu, PESCO Endowed Professor and Ward Family Endowed Interdisciplinary Chair in Civil Engineering, who will lead the NMSU collaborative team effort as part of the hub. Professor Xu has an exemplary track record of research in desalination and treatment of produced water. Our reputation in water research over the years was built on the shoulders of many successful researchers at NMSU, such as Nagamany Nirmalakhandan, civil engineering professor and campus principal investigator for the NSF Reinventing the Nation's Urban Water Infrastructure program.
Success in receiving this grant is also due to the hard work and leadership of a number of behind-the-scenes people. Our Associate Dean of Research, Phillip DeLeon, worked tirelessly to identify cost-share resources and assist in proposal preparation. Vice President of Research Luis Cifuentes was highly supportive of this initiative during the process of applying for this grant.
I am grateful for the talents and hard work of all the people who helped to realize this achievement. It puts NMSU at the top of institutions involved in water research nationwide and will help us leverage other large-scale projects that are currently underway.