US-Israel Visit on Strategic Initiatives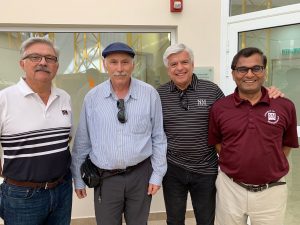 I had a wonderful experience last week traveling to Israel with our Chancellor Dan Arvizu and the ACES Dean Rolando Flores, visiting with Israeli universities and researchers. With climate and water/energy challenges very similar to New Mexico, Israel universities offer ideal partnerships to establish joint initiatives and strategic projects.
The Jacob Blaustein Institute for Desert Research has its experts on water treatment processes interested in collaborations with our researchers.
The Ben Gurion University of the Negev in Beer Sheva offers outstanding models for cybersecurity initiatives for us to emulate.
Electrochemistry research at Bar Ilan University provides alternatives to how we approach brackish water treatment.
The Volcani Center offers unparalleled opportunities for our researchers interested in food-water-energy nexus. And finally, Tel Aviv University researchers exemplify the numerous research opportunities at the interface of agriculture and engineering.