Aggie Innovation Space gets new funding from the State of New Mexico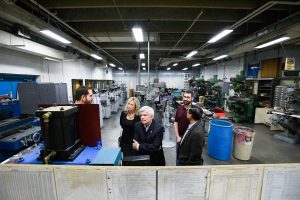 NMSU Engineering has done very well at the legislative session that has just ended in Santa Fe. The legislature has approved close to $860k of capital outlay funds toward modernizing equipment, and $150k of recurring funds toward personnel, in Aggie Innovation Space.
These funds, along with the endowment established by Dan and Sheryl Arvizu, give AIS the jumpstart it badly needs. State Representative Micaela Lara Cadena (District 33) and Senator John Arthur Smith visited AIS during the holidays, and they were very helpful in championing our needs in the legislature.
In addition, Senators Ron Griggs and Gregg Fulfer co-sponsored the bill, "Engineering and Surveying Scholarship," which will provide funds for student scholarships.
We have a lot to be thankful for in this year's legislature.