Retention rate in engineering shows increase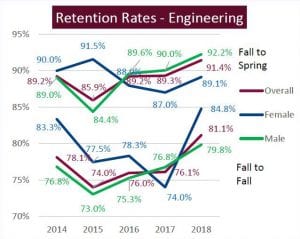 It looks as though the student-centric initiatives that have been implemented in the College of Engineering are having some positive effects on our first-year retention rates.
The college has regained, and in most categories has surpassed, some of the ground lost since 2014, particularly from 2017 to 2018. I believe that the efforts of our faculty, focused on student success, have played an important role in contributing to this gain.
I'm pleased by this progress and eager to see what the next years bring with the added support of programs such as the Eloy Torrez Family Learning Communities, Aggie Innovation Space and the Engineering Design Capstone Program.
These programs are fairly new and still being developed, along with others like the Ron Seidel Leadership Institute. Let's keep up the good work and continue to help our students be successful in their quest to become engineers.