NMSU Family of Engineering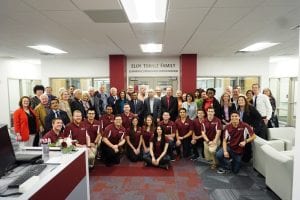 We celebrate family reunions in the College of Engineering two times a year: during National Engineers Week (E-Week) in the spring and Homecoming Week in the fall. Last week was E-Week, and we had the pleasure of having our Advisory Council meetings on campus and spending some time with our alumni.
About 20 dignitaries came from out of town to be with us, and to contribute to the collective decisions on the direction and strategies of the college. This year's meetings were special for me. We met in the new Eloy Torrez Family Learning Communities in Engineers and Chancellor Arvizu joined us to celebrate with a ribbon-cutting ceremony.
Approximately 10 donors among our visiting alumni and advisory council members contributed toward the completion of this beautiful facility. Students, faculty, staff, administration, and alumni gathered as an extended family of NMSU engineering in celebration of a place entirely dedicated to student success.
Other highlights of the week were the 44th Bromilow Lecture, "Engineering Education: A Story of Equity and Empowerment," delivered by Dr. Allyson Yarbrough, one of our accomplished alums, and an awards banquet Friday evening to celebrate the outstanding achievements of our faculty and staff.
We may gather as the larger College of Engineering family only twice a year, but there is cause for gratefulness and pride every day of the year.