Engineering alum helps build student leadership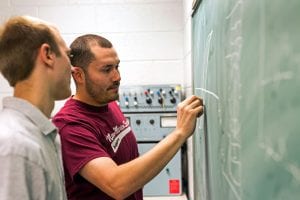 Engineering today is a team-based, multidisciplinary endeavor that requires skills beyond technical abilities, but also the ability to work with diverse groups of people, communicate effectively and develop entrepreneurial skills.
I am pleased to announce that a donation from engineering alum Ron Seidel, will help students develop those essential "soft skills" with the launch of the Ron Seidel Engineering Leadership Institute this coming spring.
A group of 20 students will be selected to be the first cohort in the two-year, self-paced program that includes professional training in leadership, communication, wellbeing and time management, and community engagement. They will work with mentors and attend professional development, leadership and communication seminars and workshops.
They will apply their skills through community service and recruiting projects. Seidel's gift will provide participating students with stipends, funding for books and supplies and travel to conferences. It will also support distinguished lectures from well-known leaders in engineering fields.
Engineering isn't just about numbers, designs, and materials—it's about leadership. One of the key attributes to becoming a leader in engineering practice, is to bring together teams from various disciplines, communicate, make decisions, be self-directed, and ethical.
We are grateful that Ron Seidel knows the importance of leadership in engineering and is generously supporting this critical focus for our students.