NMSU Engineering Gains Visibility in South India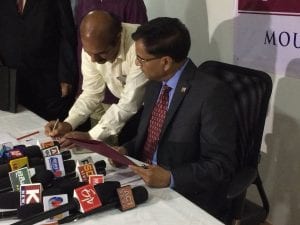 With our focus on increasing master's-level students and establishing collaborations with key engineering colleges in South India, I have completed my week-long trip to Vijayawada, the new Capital City of Andhra Pradesh.
Thanks to Dr. Kumar, our liaison and coordinator for Indian universities, NMSU engineering gained quite a bit of newspaper and TV coverage. Our signing of Memoranda of Understanding with eight colleges was televised to an audience of approximately 18 million people.
All major Telugu (local language) newspapers and one national English (Hindu) newspaper covered the unique strengths and opportunities available at NMSU. In a 14-minute television interview, I was able to address Indian students and their parents about the degree and research programs available at NMSU and about their uniqueness and relevance to Indian students.
I was accompanied by Dean Rolando Flores, College of Agriculture, Consumer and Environmental Sciences, and by Luis Cifuentes, vice president of research and graduate school dean, who focused on agricultural and other research collaboration opportunities.