The NMSU College of Engineering currently offers a curriculum culminating with a major design experience in each of the departmental programs in varying formats. The overall objective of the engineering capstone classes is to prepare students for engineering practice based on '"the knowledge and skills acquired in earlier coursework and incorporating appropriate engineering standards and multiple realistic constraints" (EAC of ABET, Inc., General Criteria 5). In addition, Engineering Technology programs seek to "develop student competencies in applying both technical and non-technical skills in solving problems," through their capstone (ETAC of ABET, Inc., General Criteria 5).
Our industry partners and employers are increasingly seeking interdepartmental capstone experiences from our students and expect them to have business and communication skills in group settings. Our college is blessed with industry support that is second to none in the country.  Some programs already incorporate industry support in their capstone projects and we now seek to expand similar partnerships to all of our programs.  I thank Provost Dan Howard for providing financial support for us to investigate this initiative this year. With this support, a Director of Engineering Design will explore college-wide interdepartmental capstone projects and industry partnerships.  This person will also articulate the synergy between Aggie Innovation Space, the Manufacturing and Technology Engineering Center (M-TEC) and the Student Project Center, so that these facilities could provide seamless design resources to our students.
NMSU engineering has enviable facilities, excellent support from faculty, staff and industry, to give our students outstanding design experience. These are exciting times to be associated with the college. 
Lakshmi N. Reddi
Dean,College of Engineering
---
NMSU alumnus enhances learning communities in engineering
Writer: Tiffany Acosta
The path to becoming a successful engineer involves more than solving calculus or chemistry problems. Students need to be creative and innovative, and New Mexico State University's Eloy Torrez Family Learning Communities in Engineering is providing assistance to students beyond the engineering basics... Read More>>
---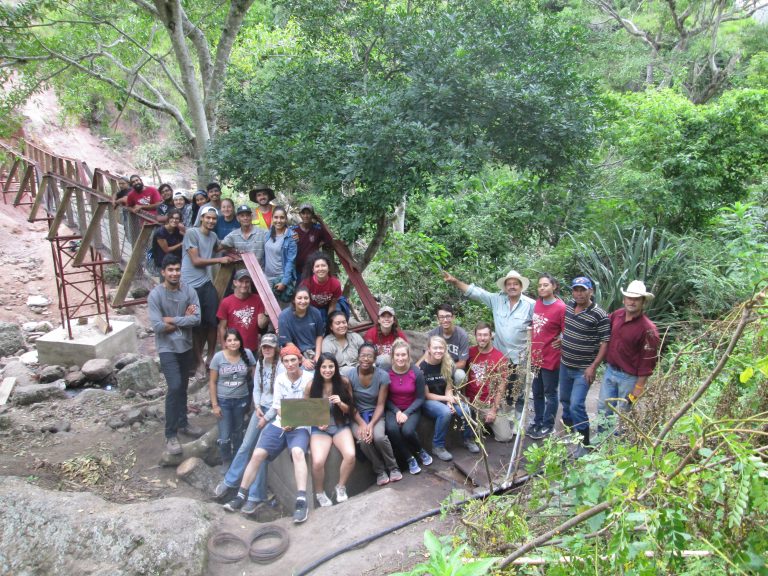 Writer: Linda Fresques
Twenty-seven New Mexico State University students and their mentors have just returned from two weeks in Nicaragua where they built a foot bridge spanning 110 feet to provide a small community…Read More>>
---
Termites can do it, why can't we? NMSU research follows nature's example
Writer: Linda Fresques
Lakshmi Reddi has always admired nature. Now, the dean of the New Mexico State University College of Engineering is trying to understand biological systems to engineer energy efficient methods for cooling and heating modern structures, with the help of a grant from the National Science Foundation…Read More>>
---
Involving NMSU freshmen in engineering research increases retention
---
NMSU to debut innovative TECH Center to engage students in STEM
Writer: Adriana M. Chavez
New Mexico State University will debut an innovative lab that will engage area students in the fields of education, science, technology, engineering and math this month…Read More>>
---
Writer: Tiffany Acosta
In a recent report from the Brookings Institution, New Mexico State University was listed as a leader in equal access to higher education. The report gave NMSU the second-highest score in the nation as a public university that provides opportunities for social mobility to students and produces valuable research. New Mexico State University...Read More>>
---
Support scholarships at NMSU through AmazonSmile
AmazonSmile is a simple and automatic way to support New Mexico State University every time you shop on Amazon, at no additional cost to you. When you shop at http://smile.amazon.com, you'll find the same prices, selection and shopping experience as https://www.amazon.com, with the added bonus that Amazon will donate a portion of the purchase price to NMSU Foundation in support of student scholarships...Read More>>
---
Writer: Adriana M. Chavez
New Mexico State University and Bosque Brewery Co. are launching Pistol Pete's 1888 Ale, which will be available on tap at the brewery's Las Cruces taproom at 901 E. University Ave. beginning Aug. 25, and at the first Aggie home game on Sept. 16 at Aggie Memorial Stadium. Cans of the ale will be available...Read More>>