NMSU engineering has done very well at the legislative session that recently ended in Santa Fe. The legislature has approved close to $860k of capital outlay funds toward modernizing equipment, and $150k of recurring funds toward personnel, for the Aggie Innovation Space. These funds, along with the endowment established by Dan and Sheryl Arvizu, give AIS the jumpstart it badly needs. State Representative Micaela Lara Cadena (District 33) and Senator John Arthur Smith visited AIS during the holidays, and they were very helpful in championing our needs in the legislature. In addition, Senators Ron Griggs and Gregg Fulfer co-sponsored the bill, "Engineering and Surveying Scholarship," which will provide funds for student scholarships.
We have a lot to be thankful for from this year's legislative session.
Sincerely,
Lakshmi N. Reddi
Dean, College of Engineering
---
Congratulations Spring 2019 Engineering Graduates!
Special recognition goes to:
Ingeniero Eminente: Debra P. Hicks, NMSU Engineering Alumna and Regent
Class of 1919 Special Award: Nicholas X. Marez, ET/SUR
Highest Honors: Ian Connor Rankin, ECE
College Outstanding Senior: Clayton Markison Miller, ET/SUR
CE Outstanding Senior: Enrique Manuel Asmar Barbosa
IE Outstanding Senior, Christy Briana Lopez
ET/SUR Outanding Senior, James P. Owen
Ian Connor Rankin, ECE Outstanding Senior
ME/AE Outstanding Senior, Brian Evan Saunders
CHME Outstanding Senior, David Jay Stoltzfus
Mason Scott Walls, EP Outstanding Senior
---
From air and water pollution to climate change, there's no shortage of problems facing the environment. But future engineers are up to the challenge of solving them. More than 150 engineering students and faculty from universities nationwide met at the New Mexico Farm & Ranch Heritage Museum to test prototypes they designed and built to solve tasks..Read More>>
---
Writer: Tiffany Acosta

With the signing of a memorandum of understanding, New Mexico State University and Sandia National Laboratories have established a partnership to develop learning opportunities and coordinate education and research for the next decade..Read More>>
---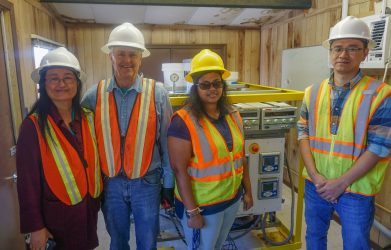 WRITER: Linda Fresques
A team of New Mexico State University graduate students and Environmental Engineering professors Nirmala Khandan and Pei Xu are developing a novel water treatment process that could render municipal wastewater into drinking water and at the same time produce algal biomass for biofuel and fertilizer..Read More>>
---
WRITER: Victoria Balderrama
Keeping hackers away is critical for businesses, and the New Mexico State University Network and Security Group faced that issue at the Southwest Collegiate Cyber Defense Competition. The team recorded a third-place finish, its best since first qualifying for the regional in 2015..Read More>>
---
Writer: Tiffany Acosta
For small business owners, finding ways to cut expenses can be essential. New Mexico State University's College of Engineering is uncovering cost-saving methods for small business owners across the state..Read More>>