The week of February 17-23 was Engineers' week—a time to celebrate the contributions that engineers have made to better society and improve the world we live in. The College of Engineering marked the week with many events, from bringing groups of students on campus to learn about our program, to interacting with the Las Cruces community and sharing some of the magic of engineering at the Las Cruces Museum of Nature and Science. NMSU alumnus Jack Davis, retired CEO of Arizona Public Service Company, gave the 43rd Annual Distinguished Lecture and shared his inspirational ideas about what it means to be an engineer. We also took time to honor and acknowledge those who work so diligently to make the College of Engineering the great place that it is through our second annual awards banquet. We are extremely grateful to a number of generous donors recognize the contributions of our faculty and staff members and have made this event possible.
Lakshmi N. Reddi
Dean, College of Engineering
---
College of Engineering honors faculty and staff during Engineers' Week
The New Mexico State University College of Engineering presented nine $1,000 awards to faculty and staff at an awards banquet held on Feb. 23.
Synergy Teaching-Research-Service Award: Ruinian Jiang, Professor, Engineering Technology and Surveying Engineering
Jiang has been at NMSU since 2003, when he started as an instructor. He served as advisor to 13 percent of the Ph.D. graduates in summer/fall 2017, while teaching in a department that doesn't have a graduate program. Jiang initiated an ongoing relationship to Chinese outreach programs, developing MOUs with Chinese universities.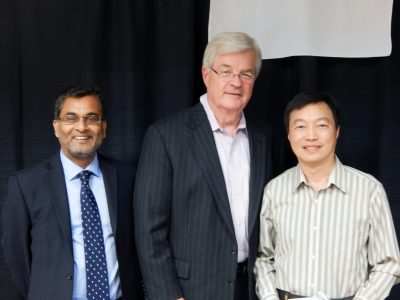 Synergy Faculty Leadership Award: Paola Bandini, Associate Professor, Civil Engineering
Bandini holds the Wells-Hatch Family Endowed Professor in Civil Engineering. She is the campus PI and technical thrust lead for Center for Bio-mediated and Bio-Inspired Geotechnics National Science Foundation Research Center, lead PI for a National Science Foundation STEM Grant, and campus co-PI for US Department of Transportation Regional University Transportation Center.
Synergy One-College Faculty Award: John Ross Tapia, Assistant Professor, Engineering Technology and Surveying Engineering
Tapia has been coordinator of ENGR 100 since fall 2014. He serves as the Eloy Torrez Family Learning Communities faculty liaison, advises the student chapter of the Associated General Contractors and is a member of the College of Engineering Scholarship Task Force.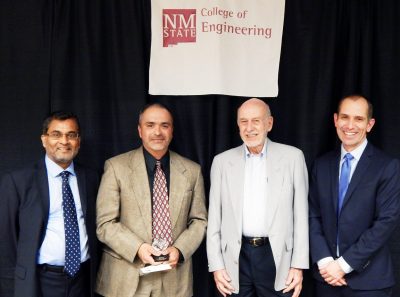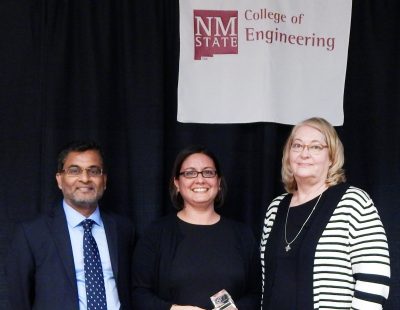 Synergy Staff Leadership Award: Monica Lopez, Interim Budget Manager, Dean's Office
Lopez has been serving as interim business manager since Dec. 2016 while continuing in her position as scholarship coordinator for the college. During that time, she has made many improvements to the processes involving college finance. She provides accurate and reliable information to the Dean and department heads and along with Donato Lozano, conducts administrative training each semester on policies and procedures.
Synergy One-College Staff Award: Linda Schauer, Grants and Contracts Administrator, Office of Engineering Research
Schauer has served the college for more than 30 years, She works with principal investigators to ensure their projects are financially well-managed. On an annual basis, she prepares approximately 150 new proposal budgets, manages accounts for 75 plus grants and contracts valued at about $11 million.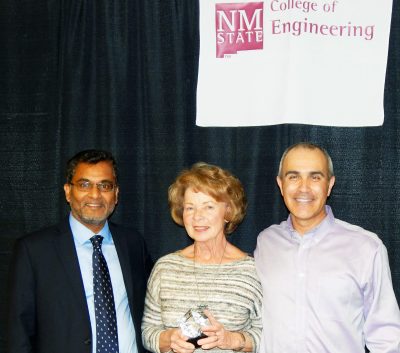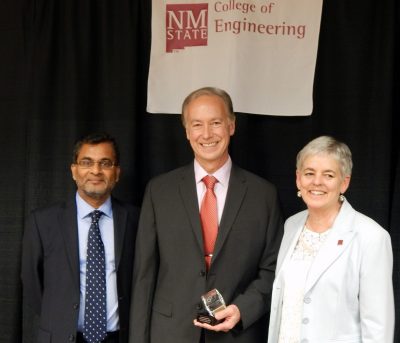 Bromilow Teaching Excellence Award: Terry Armstrong, College Assistant Professor, Mechanical and Aerospace Engineering
Armstrong is an effective and charismatic lecturer who keeps the big picture in mind. He completely revised the Experimental Methods II lab with focus on technical writing skills and group dynamics. He as a constant stream of students seeking career advice each semester. One student said, "Dr. Armstrong…Approachable, down to earth, FUNNY, and he cares about teaching"!
Bromilow Staff Excellence Award: Kenneth Ruble, Manager of Laboratory Instruction, Mechanical and Aerospace Engineering
 Ruble runs the Student Project Center and teaches ME 222. During the past year, he has successfully resurrected the student chapter of Tau Beta Pi National Engineering Honor Society. He has been the adviser and mentor of the highly popular Mini Baja team for a number of years and has recruited many female students to form a women's team.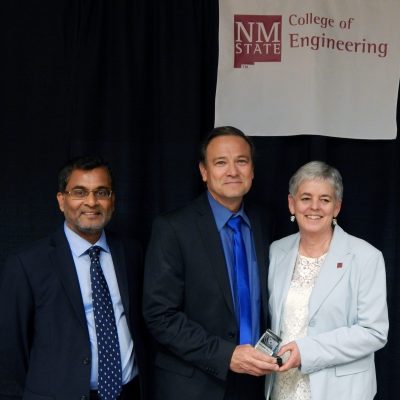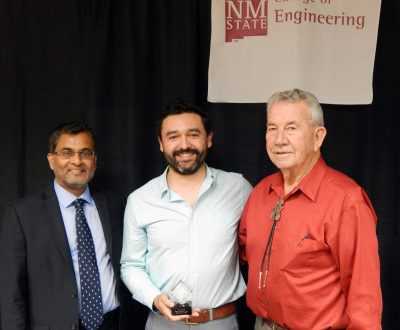 Foreman Faculty Excellence Award: Douglas Cortes, Associate Professor, Civil Engineering
Cortes has as submitted approximately 25 proposals and has been awarded $527 as PI. He has developed partnerships with researchers from top universities and other departments on campus and was instrumental in establishing MOUs with the Center for MicroBIoRobotics, Italian Institute of Technology and Universidad Autonoma de Chihuahua. Cortes has developed multiple new courses and first online geotechnical class in the department.
Foreman Staff Excellence Award: Elizabeth Howard, Program Manager, Academic Associate Dean's Office
Howard has provided valuable work with the Engineering Technology and Surveying Engineering Department's successful ABET accreditation this past fall. She was instrumental in the very successful design and development of the Engineering Freshman Year Experience. She is in the process of developing the newly established Eloy Torres Family Learning Communities.