The Paul W. Klipsch Museum is a tribute to Paul and his wife Valerie who have graciously given the NMSU College of Engineering a considerable amount of memorabilia from the audio engineering field spanning more than eight decades. They have provided continued support of this effort as well as to the NMSU College of Engineering and the Electrical Engineering Department (now known as the Klipsch School of Electrical and Computer Engineering). The Klipschs have established nine endowed scholarships that support 39 students and two departmental professorships over the years. The College of Engineering is grateful to their generosity and through this museum wish to perpetuate the memory of the renowned engineer through a dynamic and continuing celebration of his accomplishments.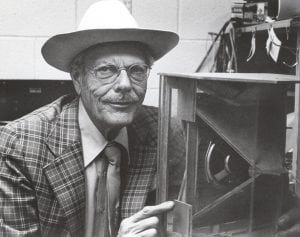 Major exhibits include laboratory equipment and other items used at NMSU during the life of Mr. Klipsch, as well as a unique collection of nearly 20 Klipsch prototype speaker systems and commercial issues. These range from large auditorium horns to residential-sized systems, both corner speakers and rectangular cabinet units.

One of the goals of the museum is to catalog and make available for research the technical correspondence of Mr. Klipsch, who during his active professional career maintained regular contact with famous engineers in the audio and related areas.

Additionally, the museum contains a variety of unique and rare laboratory instruments and other equipment, including a very early triode vacuum tube circa 1908. This tube is the forerunner of amplification devices that Mr. Klipsch used and developed.
Paul W. Klipsch is one of America's most celebrated audio pioneers because he revolutionized the way the world listens to recorded music. Unsatisfied with the sound quality of phonographs and early speaker systems, Mr. Klipsch used scientific principles to develop a corner horn speaker that sounded more lifelike than all predecessors did.
The Klipschorn®, which today is still manufactured and sold worldwide, proved it was possible to reproduce the sound of a live orchestra inside a home. The resulting acoustics career of Mr. Klipsch spanned from 1946, when he founded one of the first U.S. loudspeaker companies, to the year 2000 at the age of 96, when one of his papers was published in the "Journal of the Audio Engineering Society."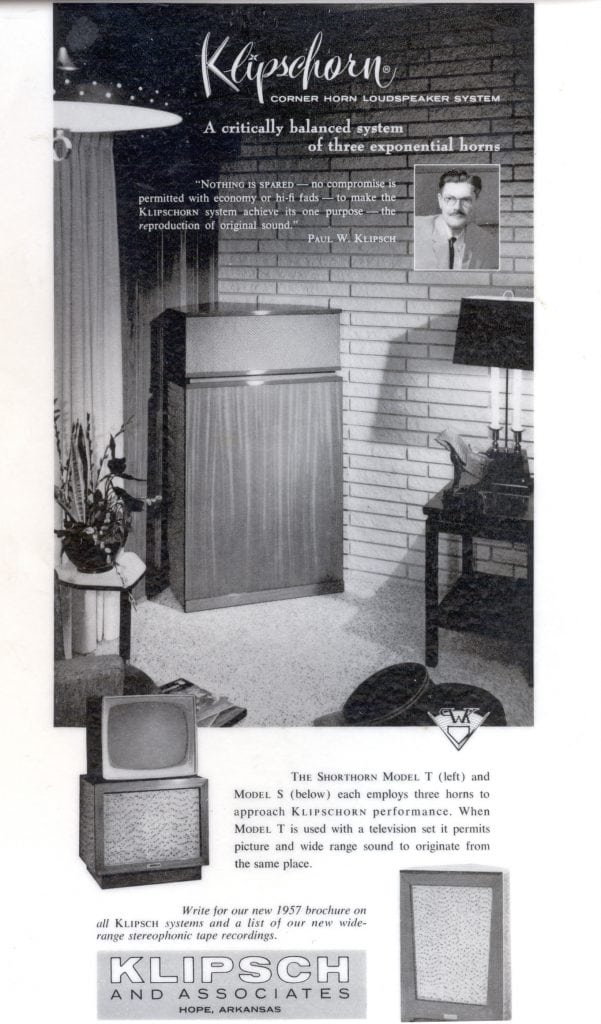 In 1978, Paul W. Klipsch was awarded the Audio Engineering Society's highest honor, the prestigious Silver Medal, for his contributions to speaker design and distortion measurement. Mr. Klipsch was inducted into the Audio Hall of Fame in 1984. In 1997, he was inducted into the Engineering and Science Hall of Fame, an honor shared by Thomas Edison, George Washington Carver and the Wright brothers. The Engineering and Science Hall of Fame recognizes those who have improved the quality of the human condition through an individual contribution using engineering and scientific principles.

Mr. Klipsch received a Bachelor of Science in electrical engineering from New Mexico State University (NMSU) in 1926, a Masters of Science in electrical engineering from Stanford University in 1934 and a Doctor of Laws from NMSU in 1981. The NSMU engineering department was renamed the Klipsch School of Electrical and Computer Engineering in 1995 in honor of Paul W. Klipsch.

Mr. Klipsch's interest in engineering was influenced by his father, an instructor of mechanical engineering at Purdue University in Lafayette, IN. Although he was only 12 when his father passed on, Mr. Klipsch's interest in science and engineering endured. He built his first speaker using a mailing tube and a pair of earphones at the age of 15, a year before the first public radio broadcast.


After graduating from El Paso High School, he enrolled at NMSU where he played cornet in the university band and was an award-winning member of the school rifle team. He credits his four years as a member of the Aggie Band for developing his love and knowledge of music and musical instruments.

Following graduation from NMSU, Mr. Klipsch went to work for General Electric designing radios sold to RCA. In 1928 he responded to a notice on the GE bulletin board. This resulted in a new job maintaining electric locomotives in Chile for three years before entering graduate school at Stanford. After receiving his Masters Degree, Mr. Klipsch worked as a geophysicist for a Texas oil company. He later served in the U.S. Army during World War II, earning the rank of Lt. Colonel.

It was during his service at the Southwest Proving Grounds in Hope, AR. that Mr. Klipsch refined his corner horn speaker design. Visitors to his officer's quarters were amazed by the lifelike reproduction and encouraged Mr. Klipsch to start his own manufacturing business. He received a patent on his loudspeaker design in 1945, registered the name Klipsch & Associates in 1946, and began making each loudspeaker with his own two hands until he hired his first employee in 1948.
Movie theaters and concert halls had long used horns to reproduce motion picture soundtracks. However, those horns, at over nine feet long, were much too large for use in the home. Klipsch's solution was to fold the horn back onto itself and place the speaker cabinet in a corner, making the walls of the room an extension of the horn.

During a 1999-videotaped interview, Mr. Klipsch claimed he did not, in fact, name the Klipschorn® himself. He said he made a sales call to a man in New York City during the first years of operating Klipsch & Associates and, surprisingly, the business prospect already knew about the revolutionary new loudspeaker. "We"ve heard all about your corner horn," the man said. "We call it the Klipschorn®."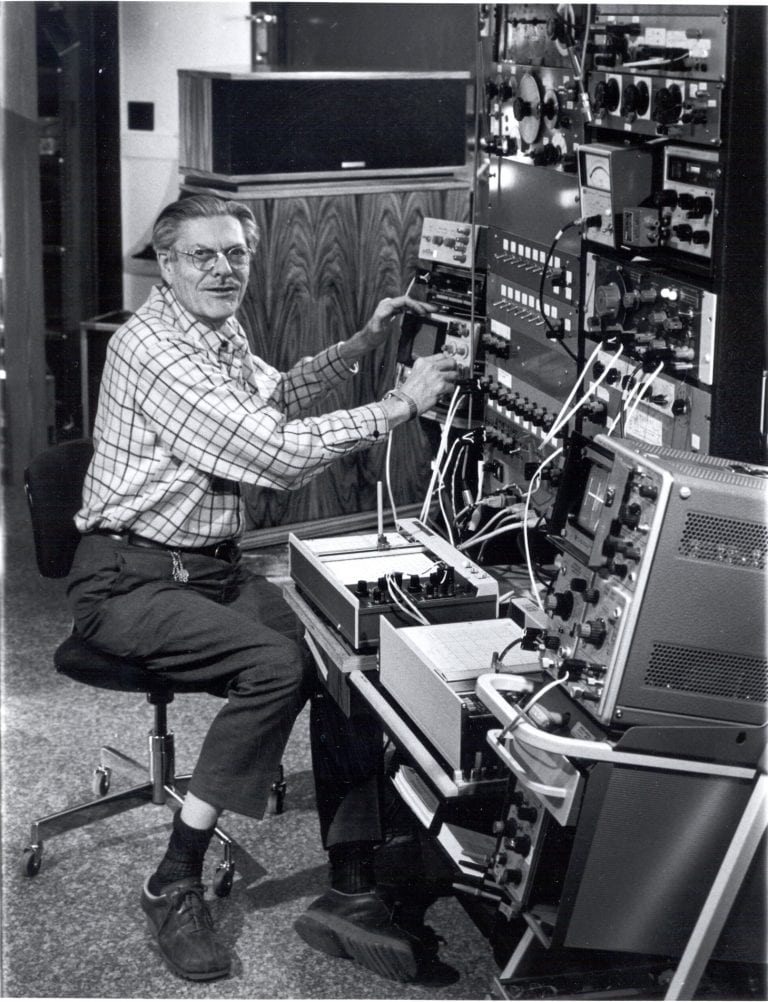 The design was chosen at the 1956 World's Fair in Brussells, Belgium, as the world's best audio speaker.

Valerie Klipsch, a concert pianist who immigrated to the United States in 1946, taught piano in Hot Springs, AR as early as 1949 and later went to work for Hope High School teaching French, German and choir. It was during this time she met her future husband after an evening of music with the Little Rock Chamber Orchestra. They were married in 1976.


He has said, "Audio was a hobby and then a profession, but I still consider myself an amateur in that an amateur is one who practices his art for love." Up to the age of 96, Paul Klipsch played an active role in the company he and Valerie sold to cousin and Indianapolis businessman Fred Klipsch and his wife Judy in 1989.

In addition to the Klipschorn® and Heresy, the Klipsch Rebel, Shorthorn, Cornwall, La Scala and Belle Klipsch are among the most well-known loudspeakers developed by Paul W. Klipsch. Many of these models, regarded as some of the world's finest, are still manufactured and sold around the world today.

The Klipschorn® is the only speaker in the world to be in continuous production, relatively unchanged, for over 50 years.
(This information was taken from the Klipsch Audio Technologies website: http://www.klipsch.com.)
---
For Information on scheduling tours please contact:
Professor, 
Klipsch School of Electrical Computer Engineering, 
ccreuser@nmsu.edu,
(575)
646-3919
Assistant Professor, Klipsch School of Electrical Computer Engineering, 
spsandov@nmsu.edu,
 (575)
646-5247
Paul W. Klipsch Museum New Mexico State University College of Engineering
1060 Frenger Mall Engineering Complex III