By James Staley
(575) 646-3071
Feb 10, 2023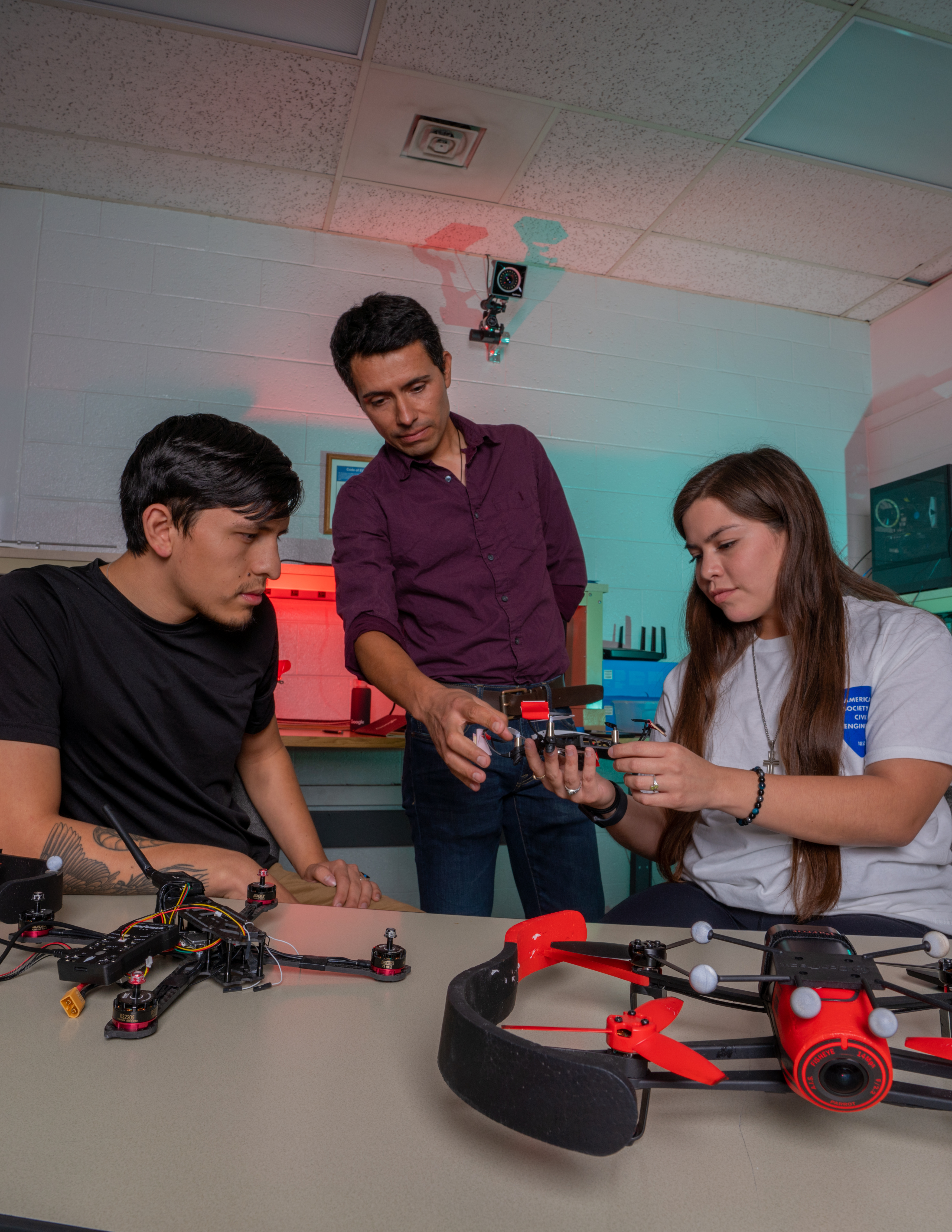 When he thinks of students in his engineering classes, a question pops into the mind of Luis Rodolfo Garcia Carrillo.
Why is it that more Hispanic female students are not taking part in engineering research activities?
Garcia Carrillo, an assistant professor at New Mexico State University's Klipsch School of Electrical and Computer Engineering, isn't alone. It's well-documented that only a sliver of engineering degrees nationwide go to Hispanic women — a little over 2%, a number that has stayed steadily low for decades, according to the National Science Foundation.
"Part of my research is understanding why women are underrepresented in STEM fields, and in particular we're talking about engineering," said Hilda Cecilia Contreras Aguirre, a researcher with NMSU's Research, Creativity and Strategic Initiatives office. "The reason we're working with this particular population is because of their underrepresentation.
"Based on research, we know they need additional support," she said. "They need these kinds of programs where they can network and be involved with their peers."
That's where a new program at NMSU comes in.
Contreras Aguirre and Garcia Carrillo are the principal investigators in the NSF-grant funded Research-Oriented Learning Experiences Program, or ROLE.
ROLE is an interdisciplinary program that provides Hispanic college students with the tools and knowledge required to succeed in science, technology, engineering and mathematics-related degrees generally, and particularly electrical and computer engineering majors. 
This year—the first full academic year of the program—ROLE is near capacity with eight students, all from different branches of engineering. Five are women. The students will be presenting at NMSU's Research and Creativity Week, Feb. 21-24, Contreras Aguirre said.
Contreras Aguirre said she wanted to "have an idea what are they learning, how was it useful and how they perceived the relationship with mentors and faculty. The whole purpose is improving the experiences in engineering for minority students in general, and women and Hispanics in particular."
Contreras Aguirre also wanted to work with somebody who taught those specific engineering classes and found Garcia Carrillo.
His area of expertise, Garcia Carrillo said, is ideal for the ROLE program and Contreras Aguirre's research because it comes with engaging and fun equipment.
Or toys, as he often calls them.
Garcia Carrillo has done a lot of work with the autonomous systems in drones, satellites and robots. 
"When you show (students) these toys and they can fly, there's a feeling," he said.
But it's not just about playing. It's about getting valuable experience, particularly a piece that's often missing.
"The first cohort we had, none of them had experience with research," Contreras Aguirre said of the first group of ROLE students who completed a pandemic-abbreviated version of the program last year. "It was eye-opening for us. We were thinking most of them would already have some experience with some research activities. Some of them didn't apply because they think they didn't qualify."
Being a part of actual tangible research for the first time was also eye-opening for one of the students in the initial cohort. Students completed two surveys and participated in interviews to assess the learning outcomes. One of the students, a junior in mechanical and aerospace engineering, told Contreras Aguirre that "it really was interesting to see how research really does work because you always hear about it all the time." She did not provide their names in accordance to research ethics regarding identity of subjects.
For another student, it wasn't what they learned but the opportunity provided by ROLE to feel at ease. 
The student, a senior in mechanical engineering technology, told Contreras Aguirre: "I felt 100% comfortable. I didn't have to worry that I was getting judged for my race or the color of my skin. I think just being able to be a part of a Hispanic program like this really just brought out the best in me."
ROLE students also receive peer help. Nicole Delgado, a Ph.D. student in education and design in learning technology, assists Contreras Aguirre and Garcia Carrillo, leading workshops and serving as a link between faculty and students. Nicholas Grijalva, a computer science master's student who was in last year's abbreviated cohort, also has been added to the leadership team and, with guidance of Garcia Carrillo, he also advises and mentors the ROLE students.
Contreras Aguirre said they have worked to educate more people about ROLE. They have submitted to two journals and presented at conferences—the next will be during summer 2023 in Baltimore, Maryland, at the American Society of Engineering Educators annual conference.
For more information about ROLE, visit https://role.nmsu.edu.
A version of this story was first published in the fall 2022 issue of Panorama, NMSU's alumni and friends magazine. To read the issue, visit https://panorama.nmsu.edu.